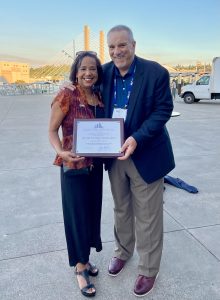 About the time that Covid was upending our lives, I began the Amazing Cities and Towns podcast with little more than a scant understanding of what it takes to do a podcast. I wanted to share some of the incredible people that I have met in local government and become a resource for Mayors. Council members and anyone that was interested in how their city hall works. 
My first call was to my son-in-law, who had his own podcast and is a genius at technology and navigating the often confusing world of the internet and the various components that make a successful podcast. He asked me a lot of questions and gave me some insight on what I was attempting. We spent hours on the phone and finally was ready to launch the podcast. Our first few episodes were challenging and I made some rookie mistakes, like not pressing "record" and having to call my guest and ask them to redo everything they had already done. Not a good move for gaining the confidence of your guests. 
After about ten episodes, I had run through the original list of guests. We then started meeting over Zoom and dug deep into my friends list to get some future episodes scheduled. Since most of the prospective guests were very busy people, scheduling was becoming a nightmare. We persevered and gradually got comfortable with our process and had a few shows in the can. 
After the first year, we had done about twenty episodes and Matt suggested trying to get authors and thought leaders from around the country who focused on local government in their writings. I was a little apprehensive, thinking that these busy people were going to take the time to do our fledgling podcast. As Matt reached out to these people, I started to see the schedule, fill up with some pretty notable guests. Many would send copies of their books for me to review and my bookshelf was filling up with New York Times bestsellers and other great books on local government and the issues facing cities and towns across America. 
One notable author was New York Times bestselling author, Sam Quinones, who wrote Dreamland, a riveting account of the Opioid Epidemic and The Least of Us, about the deadly rise of Fentanyl and Methamphetamine deaths in America. Sam had visited Clarksburg several times and wrote about the Clarksburg Mission and the compelling story of Dr. Lou Ortenzio, the director of the Mission. 
On July 17, 2023, we released our 100th episode of the Amazing Cities and Towns podcast with National League of Cities 2023 President, Mayor Victoria Woodards as the guest. I have known Victoria for many years and have visited her in Tacoma many times. As luck would have it, I was attending the National League of Cities Summer Board meeting and got to present a plaque to Mayor Woodards at a reception in the Tacoma Glass Museum. She was humbled to receive it and I was so thrilled that she was our 100th guest. 
As we be begin our next hundred episodes, I am excited that the podcast continues to grow and be a resource for local government officials. We now have people and organizations reaching out to us and suggesting interesting ideas for episodes. We have also been fortunate to have the continuing support of Bearing Advisors, who sponsor the podcast. Bearing Advisors works with companies and organizations that support local communities and we appreciate their support. 
Excited for the next one hundred episodes of The Amazing Cities and Towns Podcast. 
Note: The Amazing Cities and Towns Podcast is available on Apple Podcasts, Spotify and other popular podcast platforms.