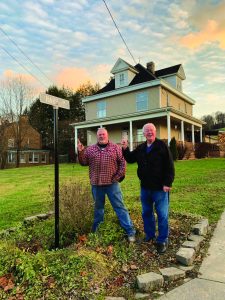 By Dawn Hensil
Staff Writer
When it comes to navigating through town, sometimes it can be tricky. Small streets and backroads are not always clearly marked. Resident Dave Palmer decided to change that, at least on his street, and add a personal touch as well. 
Palmer's driveway off of Hardesty Street caused confusion for mail delivery drivers and emergency personnel. He said on two occasions a neighbor called for an ambulance, and emergency personnel showed up at his father's residence knocking on the door looking for the person in need. 
 "This was all driven towards having emergency personnel come up our driveway looking for Hardesty," said Palmer. "It becomes a safety issue."  So, he decided to do something about it. 
Palmer's grandfather always called his driveway Harp Drive. Harp was short for his grandfather's initials; his grandfather's name was Holmer Andrew Russell Palmer. Palmer decided that he wanted to keep with traditions and officially name the drive to Harp Drive so that people could differentiate between the driveway and the street easier. 
Palmer contacted 911 mapping services and the city with his concerns about the confusion. He has other family members who live on Harp Drive, including his father and uncle. Emergency officials informed him that since there is more than one residence on the drive it must be named a lane, making it Harp Lane. 
Palmer planned to surprise his father, Sonny Palmer, with the new road sign as a gift for Christmas. His grandfather passed away in the early 1970s. They had kept the nickname, but now it was official. With the rainy weather though, he told his father on another day because he wanted a photo of his father's reaction. 
Doing it on another day did not dim the excitement. "My father was ecstatic over the surprise," said Palmer. 
With this change Palmer hopes that it will be easier for emergency agencies and delivery services to navigate his neighborhood. He also hopes that officials will review the need in other areas with similar issues. 
"No recognition is needed, but this something that will make things so much better in the future," said Palmer.