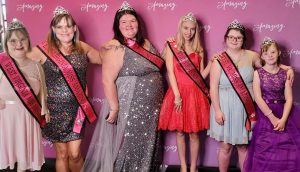 By Stephen Smoot
"What if, from an early age, women with disabilities were equally as encouraged to consider their goals, challenge themselves, and take pride in their identities?"
This question addresses both a hope and the mission of the Miss Amazing contest that will be held on Oct 7 at 3 PM in the Robinson Grand Performing Arts Center in Clarksburg.
Started over 25 years ago in Omaha, Nebraska, by a 13 year old girl "with a big dream," the event has grown from a small community celebration into "the nation's largest empowerment event circuit dedicated to girls and women with disabilities."
Over 2,000 girls and women in 36 states have benefited from participation in the nationwide event.
"It definitely takes a lot of courage to get up on the big stage and speak or perform," says Lacey Rae, an occupational therapist by trade who also serves as West Virginia State Director. Despite the natural butterflies that anyone might feel performing in front of others, Rae says "the participants are so excited leading up to the event."
Though a contest, the emphasis lies on making connections and building confidence, rather than competition. As Rae explains, "the main benefit I have seen in three years of directing this organization is the network of support that this gives the families." One of the main barriers for families of children with disabilities lies in isolation "and many feel like they are doing this alone." 
More than just a single day for children and families to gather, "we keep in touch on social media throughout the year, have an annual party, and go to the nationals to represent West Virginia." Even more important, Rae shared that "Miss Amazing serves as a platform for girls and women with disabilities to make new friends, develop life skills, and dispel commonly held myths about their value and potential."
Along the way, "the girls develop confidence and self-advocacy skills within a warm and supportive environment." In a world always trying to tell them what they can't do, Miss Amazing focuses on teaching them that they can.
Rae, in addition to providing occupational therapy, also is a pageant veteran herself. Directing the Miss Amazing contest "blends those two passions together." 
The contest focuses on three skill categories. First, the contestants must dress in business attire and engage through a one-on-one interview. 
Next, each goes on stage in a pageant T shirt specially provided for them to give a 30 second personal introduction.
Finally, they put on a "passion presentation." This can take the form of singing, dancing, telling jokes, or even giving a speech or presentation about what drives and motivates them in their lives. 
Rae emphasizes that Miss Amazing "is not a beauty pageant. It is so much more." Although the girls do get to feel beautiful while wearing pretty dresses and crowns, "there is so much love in the room. Everyone claps and cheers for everyone." Each contestant is escorted by a "right hand man" either selected by the organization or the contestant. 
Judges, as Rae describes, "check their biases at the door, to consider each individual's unique set of strengths and skills, and to evaluate the extent to which she is taking the opportunity to advocate for herself in each skill area."
Each receives a T shirt, trophy, and crown.
Tickets can be purchased ahead of time through the Robinson Grand website. There will also be $20 tickets that allow for preferred seating. Participants 10 and older may be chosen as West Virginia Miss Amazing State Queen of their division. Like other similar contests, queens may represent the organization by wearing sashes at special events or riding in parades.
Rae also described the transformations possible through Miss Amazing, saying that "I have personally been told by some girls that they have never felt beautiful before Miss Amazing. Miss Amazing programs have helped them to believe that they have value . . . improved their self-worth, and self-esteem."
And at the end of the day, that kind of change shows the true value and need for events such as this.