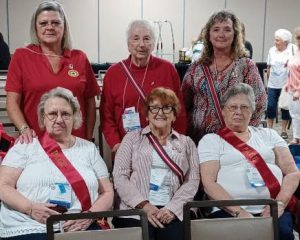 The American Legion Auxiliary Department of West Virginia held its 105th convention July 7th-9th at the Doubletree by Hilton in Huntington, WV.  The Convention is called for the purpose of electing officers for the ensuing year, amending the Department Constitution, receiving reports of Department Officers and Chairmen, and for the transaction of such other business as may properly come before it.
 Department officers elected and installed for the 2023 -2024 Auxiliary Year are: 
President-Debbie Michael; 1st Vice President-Laura Clark; 2nd Vice President-Kim Mellie; Secretary/Treasurer-Susan Brown; Chaplain-Stephanie Handley; and Historian-April Wallace.  Election of delegates and alternates for the national convention was also held.
The president's theme this year is With Love and Gratitude We Support Our Military & Honor Our Veterans, the membership theme is Let's Be Patriotic (Stars & Stripes).   Debbie's special project is Rhododendron Girls State. The auxiliary colors for the year are red, white, and blue and the flower is the Rose.  Our theme song for the year is "God Bless the U.S.A." by Lee Greenwood.  The keynote speaker for the convention this year was Vickie Koutz, American Legion Auxiliary National President with comments and greetings by Vincent "Jim" Troiola, American National Commander; Tom Hicks, American Legion Department of West Virginia Commander; and Brian S. Gano, Detachment Commander and Secretary American Legion Department of West Virginia.
Six members of American Legion Auxiliary Unit 31, Shinnston attended the convention, including two past department presidents.  Unit 31, Shinnston brought home several plaques and awards in the category of units with membership 151 and over.  These included the traveling plaques for Unit Chaplain's Report, Veterans Affairs and Recreation, History, Poppy, and Public Relations.  They also received awards for their Chaplain's Prayer Book, Unit Scrapbook, History.  They also brought back the award the first unit to make their membership goal in American Legion Auxiliary Department of West Virginia 3rd District.  
It was also announced that the annual fall conference for American Legion/American Legion Auxiliary Department of West Virginia 3rd District twill be held by Post 7, Buckhannon at the Buckhannon Senior Citizens center on November 4, 2023.