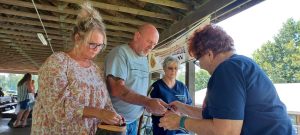 American Legion Post 31 and the American Legion Family (Auxiliary, Sons and Riders) held their annual family picnic from 12 – 5 pm on Sunday, August 20, 2023, at the city park in Shinnston.  There were approximately 150 members and guests in attendance.  
The menu for the day was picnic fare of hot dogs and hamburgers with all the fixings and a variety of salads and desserts.  
The children enjoyed swimming and prizes including bicycles and scooters.  Every child was awarded two prizes.  This year the auxiliary raffled two hand guns; one was won by Margaret Yost and the other by Betty O'Dell.  The winners received their prizes after the required background checks. The money from this raffle will be used in support of local Veterans projects during the coming year.  There were also several other raffles for adults.  
The proceeds from the 50/50 this year went the Post 31 building fund. The picnic is an annual event to gather family and friends of American Legion Post 31 for an afternoon of fun and fellowship.  Pictured are picnic goers Tara and Glenn Pyles purchasing 50/50 tickets from auxiliary member Roxie Nicholson with Cheryl Turner.