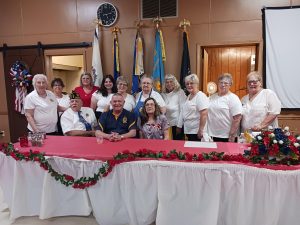 On Saturday, July 15, 2023, members of the American Legion Family Post 31 (Legion, Auxiliary, Sons, Riders) gathered to honor past commander and Navy Veteran, Bruce Grimes and his family.  Bruce served as American Legion Post 31 Commander from 2016 to 2023.  He is also a 29-year member of Post 31.  He decided not to run for reelection for the 2023-2024 Legion Year to spend more time with his family.  Among other things accomplished during his tenure as commander there were many improvements made to the American Legion Post 31 building to make it more attractive and user friendly.
The program was opened with a prayer by and introduction by Robin Shingleton, American Legion Post 31 2nd Vice Commander and Legion Riders Post 31 Treasurer.  Robin is also a member of American Legion Auxiliary Unit 31.  The POW/MIA Service was performed by American Legion Post Adjutant, Tom Willis.  Guest speaker for the event was Miles Epling, American Legion Department of West Virginia Adjutant.  Comments were also made by Post Commander, Tom Jenkins; Auxiliary Unit 31 President, Marsha Duckworth; and American Legion Riders Director, Cliff Shingleton; and Sons of the American Legion, Eugene Lamb.  Last, but not least, were comments by Past Post Commander Bruce Grimes.  Bruce and his wife, Renie, were presented with several gifts during the program. 
American Legion Auxiliary Unit 31 prepared a dinner of baked steak, fried chicken, green beans, mashed potatoes/gravy, tossed salad, rolls and a special cake with the American Legion Emblem.  
Music for the event was provided by "Vets with Guitars". 
Pictured Front row:  Dortha Parsons; Post 31 Commander, Tom Jenkins; Past Commander Bruce Grimes; and Renie Grimes.  Second Row:  Andrea Skelly; Parry Jenkins; Lily Capozzi; Marsha Duckworth; Carla Wilfong; Cheryl Turner; Margaret Yost and Betsy Turner.