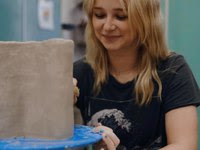 By Jim Hunt
 Throughout my life, I have always admired artists and those with creative abilities. I would look at sculptures and wonder how the artist knew what to do or how to start. I would see a person sketching a scene along a riverbank and with just a few brushstrokes, a beautiful picture would emerge. In grade school, my attempts at creativity not only disappointed my teachers, but even my mother was reluctant to put my 
work on the refrigerator. It seemed like I lacked the genes needed to look at things creatively. With that in mind, I was so excited when my granddaughter, Ali, expressed an interest in art. I first noticed when she would make me a birthday card and it just seemed to have a flair that you wouldn't expect from a four- or five-year-old child. 
 Ali continued her love for art as she entered high school and had some great teachers who nurtured her talent and advanced her skills each year. She participated in several art shows, and you could see how much she improved year after year. When she was a senior in high school, I asked her if she could paint me a picture of my dog, Jack, for my birthday. As the day approached, I was excited to see Ali's gift and when I unwrapped it, everyone in attendance, were impressed at how she captured Jack's personality in the picture. I've kept the picture in my office, and it is one of my most treasured possessions.  
 After Ali graduated from high school, she decided to attend Fairmont State University and major in art education. I was so happy that she chose to pursue her passion and invest her time and effort into improving her skills in the art world. There is something about spending the entire school year painting, sculpting, and doing pottery, that gives you an insight into how artists evolve and find out exactly where their skills are. Ali has certainly taken full advantage of this exposure to all forms of art, and it is evident in the quality of her projects. Now in her junior year, she is heavy into pottery and producing some interesting pieces of art, that are stunningly beautiful.  
 It is exciting to see how this little blonde girl has grown into a beautiful young lady, with the world in front of her. I would hope that art is a part of her life and that it brings her fulfillment and satisfaction. I know the term "starving artist" is rooted in the fact that it is hard to make a living as an artist and that the competition is fierce to stake your claim as a wunderkind.  
 As I grow older, I have come to realize the value of art in our world and how much it enhances our lives. In my work with cities and towns, few are truly Amazing, without an emphasis on art. Whether it is the public works of art in cities like Chicago with their beautiful Millennium Park with its iconic "Bean" or the beautiful murals in cities throughout the country, art is shared by all. I think it was summed up best by the great artist, Pablo Picasso when he said, "Art washes away from the soul, the dust of everyday life.  
 To see some of my granddaughter's work, visit @alihope_art on Instagram.