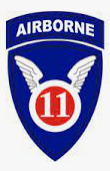 Arlie Eugene Shaver
Arlie Eugene Shaver, 93, of Hutchinson, passed away on Thursday, November 9, 2023 at Rosewood Center in Grafton.  He was born in West Union on May 8, 1930 to the late Arlie C. Shaver and Eva (Davis) Shaver.
Arlie was a beloved and respected member of the Hutchinson Community, an active member of the Hutchinson United Methodist Church and a dedicated leader in the community, leaving an indelible mark on the town he called home.  He proudly served in the United States Army 11th Airborne Division at Fort Campbell, KY and continued his commitment to the military as a member of the United States Army Reserve in Fairmont.  Following his military service, he became a foreman with the Consolidation Coal Company's Mine No 20 at Four States, from where he retired.  He remained active in the annual miners' reunion, where his expertise and camaraderie were highly valued.
Arlie is survived by his loving wife of 72 years, Geneva "Genia" (Rosinski) Shaver; three sons:  Dr. Joseph Shaver and wife Dr. Ann Shaver of Fairmont, Rick Shaver and wife Debbie of Monumental and Todd Allen Shaver and companion Pam May of Fairmont and Pam's daughter Odessa Carpenter and companion Billy Kellar of Mannington; two cherished grandchildren:  Gavin Shaver and Shasta Nicole Shaver; one great granddaughter, Gezella Jones, two great grandsons:  Orion Long and Salem Kellar; one brother, James Shaver; one sister, Carolyn Shaver as well as several nieces and nephews.
In addition to his parents, he is preceded in death by three brothers:  William Shaver, Charles Shaver and Kenny Ray Shaver and one sister, Martha Collins.
Family and friends will be received at Dorsey Funeral Home, 701 S. Pike St., Shinnston, on Monday, November 13, 2023 from 11:00am until time of service, 1:00pm with Pastor Danny Blake officiating.  Interment will follow at Shinnston Memorial Cemetery. Military Honors will be provided by United States Army and Marion County Honor Guard.
Dorsey Funeral Home is honored to be handling the arrangements for the Shaver family.