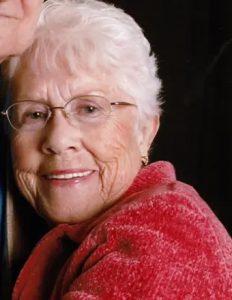 Billie Agnes Maul
Billie Agnes Maul, 95, of Shinnston, passed away September 24, 2023. She was born on December 20, 1927 in Nealy Ridge, VA, a daughter to the late Allen Rasnick and Leota Counts. Along with her parents, she is preceded in death by her husband, Earnest Maul, whom she married on September 28, 1947;  and four sisters, Hazel Snyder, Virginia Rasnick, Mable Rasnick, and Betty Gillespie (William).
She is survived by her children, son Earnest Maul Jr. (Betty); daughter Teresa Shackleford (Bernard); sister Clara Neal; grandchildren Geoffrey Maul, Lee, James, and Adam shackleford; great-grandchildren, Christopher, Adam, Joseph, Nathan, Matthew, Brian, Hannah, Rosaline, Hailey, Nora, and Tre Shackleford; and great-great-grandchildren Katherine and Hunter Shackleford.
Billie was a member of the First United Methodist Church and she enjoyed painting, bowling and traveling.
Friends will be received at Harmer Funeral Home on Friday, September 29,2023 from 11:00AM- 1:00PM. A funeral service will be held on Friday at 1:00PM with Reverend Michael Burge officiating. Interment will follow at Shinnston Memorial Cemetery.
Online memories and condolences may be shared at www.harmerfuneralhome.com
A service of Harmer Funeral Home, Shinnston.