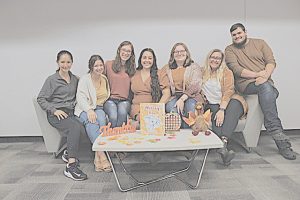 By SHEILA MCLAUGHLIN, News & Journal Staff Writer
Celebrating their 5th year of student-led volunteer
servitude, Boxing It Up To Give Thanks – a local food
insecurity program, kicks off their season of giving once
again this Thanksgiving holiday. Located in North Central
West Virginia, the program's success has continued to
grow amidst the uncertainties of the Covid-19 pandemic.
Fulfilling dire food needs in local communities is but
one of many accomplishments of the Boxing It Up team.
In recent years, student volunteers have delivered one
thousand Thanksgiving meals that can feed a family of
six, and distributed nineteen thousand pounds of
Thanksgiving food to fifteen pantries across Harrison,
Doddridge, Marion, Monongalia, Upshur, and Taylor
counties. They have established a food insecurity reading
program with the publication of "Mella's Box", donating
one hundred and fifty copies of the book to libraries and
elementary schools across fifteen West Virginia counties.
Guest readings of "Mella's Box" have been led in
elementary schools with the goal of educating our local
youth about food insecurities and mentoring them about
becoming leaders in their communities. The volunteer
team has established roots on the campus of West Virginia
Wesleyan College as a "WE LEAD" advocacy program
through the Center for Community Engagement to further
the program's mission of involving community youth in
fundraising, leadership, and poverty reduction.
"Boxing It Up's current focus is on fundraising," said
program organizer Hannah Povroznik. "We are
persevering through year five amid the pandemic. The
implications of COVID-19 remain and have transcended
our capacity to fundraise. Inflated food prices and
shortages complicate access to Thanksgiving essentials,
especially the anticipated need for 1,000 turkeys. Price
Cutter has been on Boxing It Up's journey every step of
the way and continues to be an asset to the program."
Hannah stated. There has been a seven-thousand-dollar
increase in food expenses just this year.
Boxing It Up To Give Thanks relies heavily on
incoming donations to continue serving our communities.
To help attain program goals, two initiatives have begun.
Coffee sleeves are being dispersed from Stone Tower,
Fish Hawk Acres, Dough Re Mi in Buckhannon, as well
as Winnie's Café and Farmhouse Ice Cream in Bridgeport.
The sleeves contain QR codes for anyone interested in
reading more information about Boxing It Up. The second
initiative is the "You've Been Flocked" fundraiser.
You've Been Flocked is geared toward awareness and
student involvement on the Wesleyan campus. Campus
fraternities such as Chi Phi and Alpha Sigma Phi are
leading the way in "flocking" local yards in Buckhannon
with turkey signage. Signs may be purchased for a $25
donation to Boxing It Up.
Monetary donations can also be made in the following
ways:
Please visit: gofundme.com/boxingitup2021. Follow
their Facebook page @boxingitup or donations by check
may be mailed to: Hannah Povroznik (c/o Boxing It Up)
403 Tupelo Lane Bridgeport, WV 26330.
"We could not do what we do without community
sponsors like Winnie's, About You Monograms, Diamond
Street Car Wash, Bridgeport Express Care, TGI Friday's,
corporations servicing West Virginia like Intercoastal
Mortgage, and neighbors, service groups, churches.
Because of them, we are 57% funded to date," states
Hannah. This year's boxes will be distributed to local
pantries by November 21
ST.
Cutlines:
Pic no. 1:
Student volunteers from West Virginia Wesleyan
have established roots on the campus as a "WE
LEAD" advocacy program which involves community
youth in fundraising, leadership, and poverty
reduction.
Pic no. 2:
Campus fraternities such as Chi Phi and Alpha Sigma
Phi are leading the way in "flocking" local yards in
Buckhannon with turkey signage.