By Erin Beck
Whether the American Legion Auxiliary is throwing a children's party or bringing gifts to ill veterans, Carla Wilfong is behind the scenes, ensuring veterans are respectfully honored and events run smoothly.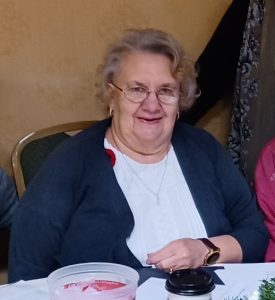 Wilfong has been a member of the American Legion Auxiliary Unit 31 for about 25 years. She was able to join the organization, which is for family members of war veterans, because her father Harry Yost, who is deceased, was a World War II veteran and a member of the American Legion. She has served as president and treasurer of the unit and has been the second vice president for about 18 years.
"I do a lot of it to show my appreciation to the veterans that's living and deceased for what they have done for our country to keep us free," she said.
At 72, she stays busy. She also serves as secretary of the board for the Clay District Veterans Memorial in Shinnston and is a member of the Shinnston Senior Citizens satellite. When not helping with Auxiliary activities, Wilfong may be found helping with the cleaning, decorating, and installing of the plaques at the memorial.
She also tries to go to Planet Fitness twice a week and enjoys spending time with her two kids and three grandchildren, crocheting, reading, cooking, baking and caring for her indoor flowers.
Wilfong said it was difficult to put into words the impact of her father, who was one of the founders of the memorial, on her work today, but that he was supportive to her and also instilled respect for veterans. Her work is rewarding, she said, but her belief in the cause is the main reason for her efforts.
She recalled telling one veteran, "My dad was a veteran and if I wasn't kind to you and showed my appreciation, he'd come back from the grave to kick my butt."
The Auxiliary organizes a number of service activities in the community, including children's parties, a Veterans Day meal with the Lions Club, bereavement dinners, elimination dinners, and Lincoln High School Band Boosters fundraisers. She said they also distribute "comfort items" to the VA Hospital and nursing home, meaning items like sweatpants, cleaning supplies, and toothpaste.
"I just enjoy getting out and meeting people and staying involved," Wilfong said. "I have made some real good friends there, and I feel that I help them however I can."
Thanks to her years of experience, she's familiar with all aspects of event planning.
"I'm just in there wherever it's needed," she said.
After starting out 25 years ago attending Bingo, she's now involved with all group activities. For dinners, she determines the cost and does the purchasing, among other responsibilities. She also does the purchasing for comfort items.
Betsy Turner, who does public relations for the group, called Wilfong "the glue that holds everybody together."
"Without her, I don't think a lot of events would take place," Turner said.
Wilfong is retired after working as a clerk about ten years at K&K Loans in Clarksburg. She also volunteered with the Auxiliary while working.
A graduate of Shinnston High School, she previously attended Lumberport High School.
In the community, she is known for her caring nature, even among those not involved with the Legion.
"I always tell people if they need to talk to somebody, you've got my phone number, you can give me a call anytime," she said. "A lot of people have."