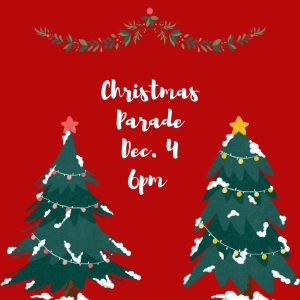 By Dawn Hensil
Staff Writer
The City of Shinnston has been working to plan a
holiday-inspired evening filled with music, lights and
other festivities on Dec. 6.
The evening's events will begin at 6 p.m. with the city's
Christmas parade through town. Santa and Mrs. Claus will
also be in the parade.
At the conclusion of the parade, event-goers can come
down to the green space, where there will be a tree
lighting. The city's tree was graciously decorated by the
Shinnston Lions Club.
The parade and tree lighting are not the only plans for
the evening. Byron Cooper will be supplying music for
the concert to be held immediately after the tree lighting.
This will be the first Christmas-themed concert for the
performer, and he is excited to be invited to perform.
"With the exception of the parade, Shinnston has never
had a Christmas concert or tree-lighting in its past,"
organizer Anthony Tate said. "There is a lot of excitement
about this event, and I have even had other are cities reach
out and express how much they love the idea."
Santa and Mrs.Claus will be available during the tree
lighting for the children to take pictures with and visit.
The local Boy Scouts will also be there supplying hot
chocolate.
Shinnston is also planning a city-wide Christmas light
decorating contest for anyone with a Shinnston address.
The categories will be broken up between residential
homes and businesses.
Those who are interested in taking part in the contest are
encouraged to call or stop in at the city office to register.
Deadline for entries is Dec. 10 and judging will be on
Dec. 22. They hope to announce the winners on Dec. 23.
Prizes for this contest will be decided soon.