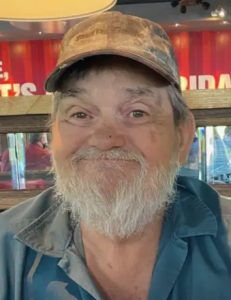 Christopher Leroy "Skip" Reel
Christopher Leroy "Skip" Reel, a cherished resident of Lumberport, and a native of Mannington, passed away at United Hospital Center on Friday, September 29, 2023 leaving a legacy of love and hard work. Born July 25, 1949, Skip was a beloved husband, father, and grandpa whose kindness touched the hearts of all who knew him.
Skip was preceded in death by his beloved wife, Nancy Reel, his parents, Anna and Justin Reel, and son, Bob Stevens as well as several brothers and sisters.
He is survived by his adoring daughters, Wendy Mazzei and husband David of Shinnston; Chrissy Moran and husband Joe of Lumberport; and Kim Harbert and husband Jon of Enterprise; he is also survived by one son, Eric Swick. His presence will be deeply missed by his grandchildren, Christopher Mazzei; Jamie Burr and husband Colton; Kelly Arbogast; Miranda Carroll and husband Dakota; as well as his great-grandchildren, Elijah Francisco; Christian Hooton; Lincoln Arbogast; Abel Arbogast; Makenzie and Aubrie Burr; and Christopher Carroll. He is also survived by several brothers, sisters, nieces and nephews who mourn his passing.
Skip found immense joy in the simple pleasures of life. Especially on his tractors in the vast hayfields, surrounded by the beauty of the outdoors that he cherished. His dedication to hard work was unparalleled, making him one of the most industrious individuals anyone had the privilege to know. His ornery sense of humor and love for engaging with others endeared him to everyone he met. He had a genuine passion for connecting with people and leaving a lasting impression on all who crossed his path.
In addition to his love for people, Skip had a special bond with his loyal companion, his dog Hooter, who brought him comfort and joy through the years.
Now, reunited with his beloved wife and parents, Skip can finally rest. His legacy living on in the hearts of those he leaves behind. In this time of profound sorrow, let us remember the man who touched our lives with warmth, humor, and unwavering work ethic. May his memory be a source of comfort and inspiration, reminding us to cherish the simple moments and people we hold dear.
Friends will be received at Perine Funeral Home, 1348 S. Pike St. Shinnston, on Monday from 11:00 am until the time of the funeral service at 1:00 pm. Pastor Jeff Perine will officiate the service. Interment will follow at the Lumberport Lions Club Cemetery. Online memories and condolences can be shared with the family at www.perinefunerals.com
The Perine Funeral Home is honored to serve the Reel family.