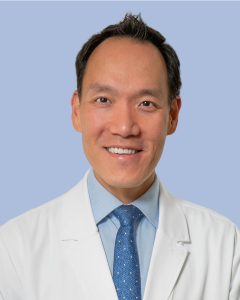 Bridgeport —Clarence D. Lin, M.D., is coming to WVU Medicine United Hospital Center from Pittsburgh, where he has been practicing general surgery, including robotic and minimally invasive surgeries.
He received a Bachelor and Master of Arts in biophysics from Johns Hopkins University,  going on to graduate from the New York University School of Medicine. He completed his residency in general surgery at Yale New Haven Hospital (Connecticut) and an additional year at Brown University Medical School (Rhode Island), as an associate in their Mastery in General Surgery Program where he focused on advanced laparoscopic and foregut surgery. 
Dr. Lin brings with him much research experience, publishing in various scientific journals, teaching experience, and volunteer work.
He is certified by the American Board of Surgery and a member of the American College of Surgeons and the American Medical Association.
In his spare time, he is an avid tennis player, likes improvisational comedy, and using computer design software as well as creating scientific illustrations for multiple publications. Dr. Lin enjoys art, drawing, and graphic design, particularly portraiture with the media of charcoal, graphite and conte (he minored in Fine Arts while at Johns Hopkins).
Dr. Lin joins UHC General Surgery, the practice of Jeffrey W. Madden, M.D.; Benjamin A. Raymond, D.O.; and Sugam B. Vasani, M.D.  UHC General Surgery is located at 527 Medical Park Drive, Suite 202 in Bridgeport.  For more information please call (681) 342-3400 or visit www.wvgeneralsurgery.com.