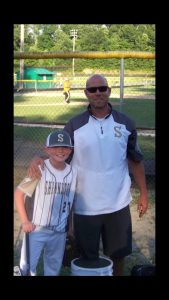 By Dawn Hensil and Erin Beck
The Shinnston News & Harrison County Journal has named Derek McIntyre as February Citizen of the Month, a recognition sponsored by Dorsey Funeral Home in Shinnston – locally owned and operated.
Derek McIntyre, 41, is the son of Rick and Sandy McIntyre of Shinnston.  McIntyre grew up in Enterprise and is a 1998 graduate of Lincoln High School. McIntyre also attended Fairmont State and has remained an active part of the community since then.   
McIntyre and his wife, Megan, also a lifelong resident of Shinnston, are raising three children: Haleigh 13, Colt 11, and Kennedy 7.  The two have been raising their children within the Shinnston community. Two of his children attend Lincoln Middle School and one attends Big Elm Elementary School.  Their children are active in sports within the community, and McIntyre and his wife work closely with those teams to help the children succeed.  
McIntyre is the current president of the Shinnston Little League and has coached youth baseball and basketball for the last several years.  His teams have won Little League season championships for C-ball (which he said includes coach pitches and machine pitches) and Major Divisions (which are known as more competitive).  McIntyre said that he wants to continue coaching even when his kids are finished with those teams and have moved on.  He enjoys it and doesn't plan to quit.     
"I have helped with a couple tournament championships as well with Colt's travel baseball team, but any of those wins, it isn't just me," McIntyre said. "I have been blessed to have great coaches beside me, all wanting the best for our kids.  That's what it's all about and that isn't lip service."
Mayor Pat Kovalck said Derek has always been very loyal to family and friends. 
"And he puts 100% of himself into anything that he does," Kovalck said. "We have spent a majority of our lives together. From elementary school in Enterprise, to the Lincoln High Marching Band to many years at the Shinnston VFD. He is always eager to make his community better. And every organization that he's been a part of is stronger because of his dedication."
Kovalck also joked about his best friend since kindergarten. He said that they were "ornery in our younger years, but nothing serious." 
"And he probably owns the land speed record for both Pike St. and East Ave," he added.
Kovalck said he often calls McIntyre for advice.
"He will argue with the devil (and even his mother) for what he sees as right. But he is always willing to look at topics from the other perspective."
McIntyre served as a member of the Shinnston Volunteer Fire Department for a total of 22 years.  He served in different administrative and operational leadership roles throughout that time.  He enjoyed his time with the SVFD but recently decided to "retire" from the fire department so that he could focus his time and energy on his kids.  
Current Fire Chief Dylan Oliveto said the two have been friends since middle school.
"As long as I can remember, Derek has always been first class!" Oliveto said. "I am fortunate that I have been able to call Derek a close friend for better than 30 years and also a great colleague, hard worker, and dedicated dad.  Derek served as my Deputy Fire Chief from the time I became Fire Chief until he retired from the fire department in 2019.  He was my right-hand man in the fire service and always gave the community 100%.  He isn't afraid of a challenge and is always looking for ways to pitch in.  His passion for his kids and youth sports is unmatched in our community.  I can't think of a person more deserving to be named a citizen of the month."
McIntyre has also worked for Frontier Communications as an outside plant technician for the last 15 years.  He works out of the Shinnston office servicing the community.  
Serving a small stint on the Shinnston City Council, McIntyre hopes to one day get back into it again.  He plans to stay within the community as long as the community allows and continue to be an active member.
"I am very proud to be from Shinnston, and always lend a helping hand when possible," he said.