By Sarah Hayes
Contributing Writer
During meetings April 19, Shinnston City Council corrected an error in the 2022-2023 budget and discussed the proposed lawsuit over a damaged home, among other items.
City Council held a special meeting at 7 p.m. at the Woman's Club on Bridge Street, followed by a short work session. 
After council members approved the 2022-2023 budget last month, the state auditor's office found an error, according to Shinnston City Manager Chad Edwards.
The budget had inaccurately included $8,000 in tax increment financing (TIF) revenue; Shinnston does not have a TIF district although there is one at Charles Pointe in Bridgeport.
Edwards said council members agreed to move that allotment into a contingency fund instead and approved a finalized version of the $1.96 million budget.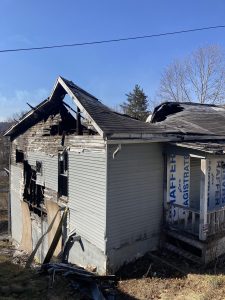 During the work session, Council discussed the planned lawsuit against NAJ LLC, the owner of a neglected property on Charles Street in Shinnston. NAJ, a Charleston-based real estate holdings business, owns the house, which was heavily damaged by fire last year.
Edwards said NAJ has offered to give the city of Shinnston the property to avoid litigation.  Council plans to discuss this further during its next meeting. 
Council will also be looking into applying for new funding after recently passed state legislation provided a pool of funding to demolish dilapidated houses within the city. 
"I would like to tear down and clear out a couple and plant trees so that we can have a nice view of the ballpark, as opposed to the view of a burned down house," Edwards said. "When people are coming into town, the first thing they see is a burned down house."
During the work session, Edwards said AAL accounting firm, based out of Vienna, Virginia, was selected after a bidding process to do the annual audit. He said the city, like many other cities, hasn't undergone one of those audits over the last couple years due to COVID-19 concerns.
"They make sure you've got plenty of checks and balances and segregation of duties," he said. "It's kind of like having a third set of eyes looking at everything."
According to Edwards, "Our audit should be caught up in the next couple of months."
Edwards also spoke of possibly looking into a grant for a new city building, but as of now, the city is still in the early stages of the process. 
He also spoke of a recent meeting at the water plant regarding new copper and lead regulations and reporting requirements. More sampling must be done to satisfy the required number of samples to be done by 2024.
 "We're on top of it," Edwards said.
Multiple media outlets have reported on elevated lead levels among children in Clarksburg; Edwards said that problem has not been detected in Shinnston.