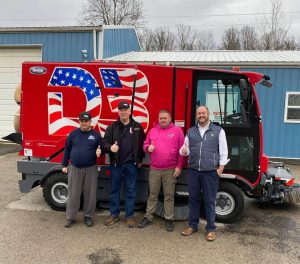 By Erin Beck
Editor
Shinnston City Council members unanimously authorized the purchase of what they described as a much-needed street sweeper at their Dec. 13 meeting.
The City of Shinnston received two allocations from the federal American Rescue Plan Act: $880,000 that went directly to the city, and $300,000 it received as part of a larger allocation sent to Harrison County. 
"The street sweeper is $187,797.00 and we are buying it from Bortek Industries on a state bid," City Manager Chad Edwards said, in response to an email seeking more information. 
During the meeting, Edwards recommended using the $300,00 allocation for the street sweeper. City officials will have to approach county officials about the use of the funds. 
They discussed whether Harrison County officials would be able to deny the request. Edwards said he didn't expect county officials to turn down the request, but if so, they could revisit the subject next month.
American Rescue Plan Act funds directed to cities and counties are to be used for broadband, sewer or water infrastructure projects, extra pay for workers who've responded to the pandemic, and COVID-19 relief. 
Mayor Patrick Kovalck said he believed the purchase should count as an infrastructure investment, since it would help keep storm drains from getting clogged. 
Vice-Mayor Andrew Kisamore said city officials had discussed the need for a street sweeper for four years. 
According to Edwards' city manager's report, the city is repairing Water Street, where a ruptured sewer line created erosion.
Also according to his report, the Sanitary Board met Dec. 2 with Harrison County officials to discuss expanding the sewer system to take in Owings, Bethlehem, Willard, portions of Saltwell Road, and Haywood. 
In other business, councilmembers: 
Thanked Anthony Tate, Shinnston economic development coordinator, for his work. Tate said he'll be leaving after the first of the year for a job with a health clinic.

Selected two representatives, Kovalck and Rodney Strait, to work with two representatives from Lumberport as the advisory council for a project: potentially selling water to Lumberport.

Appointed four people to the Shinnston Development Authority: J

ason Martin, Shannon Keller, Andrew Minigh, and




Maria Cusack.

Met in executive session to discuss personnel and property issues.