By Erin Beck
Lincoln High School's craft show to raise funds for sophomore class activities was held on Saturday. Nearly every table in the high school cafeteria was filled with seasonal decor and potential gifts, from hard-to-find records to hair accessories and beaded bracelets.
About 30 vendors participated, according to Kaitlyn Boot, a teacher who assisted with the event.
Michelle Cari, of Shinnston, sold hand-knitted, hand-dyed stuffed animals. Her shop is called Salem Does Yarn, after her cat Salem.
"I try to make everything child-friendly so it's all safety eyes, acrylic for the kids that have wool allergies," she said. "I also do customs; I make sweaters, socks, blankets."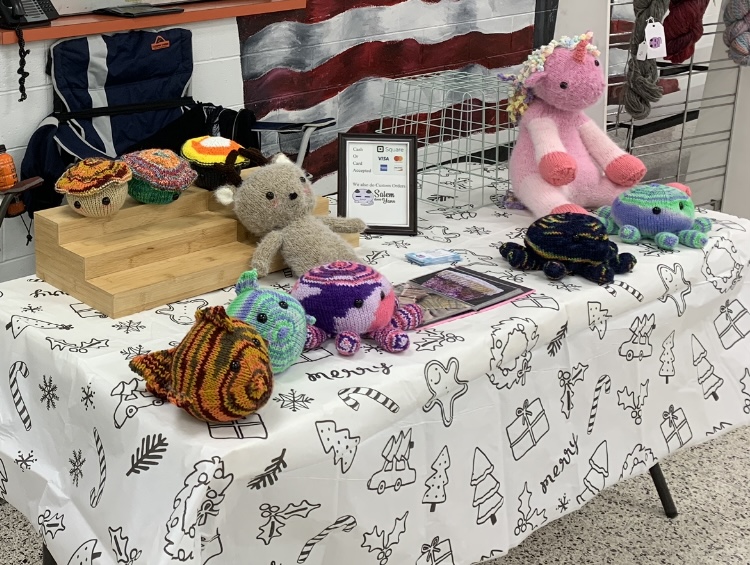 Families are appreciative of that, she said.
"People tend to like the softer fabrics that I do, and they like the safety features… They do appreciate how much work goes into it," she said. "Some of my bigger stuffed animals take three days alone to make. A lot of people are very surprised that I do hand-dyed yarn."
She said much of her materials come from a woman who has alpacas in the Meadowbrook area, Amber Hughes.
She has an Instagram, @salemdoesyarn, and an Etsy shop, Salemdoesyarn.etsy.com. She also can be reached on Facebook Messenger, but noted she doesn't post as much there.
"The best way to reach me is Instagram," she said.
Amie Glover, another vendor from Mannington, walked over from another table in the cafeteria to admire Cari's handiwork.
"My dog is named Salem," Glover said.
Glover was selling colorful, sparkling bracelets with attached keyrings, using beads and rhinestones and beaded pens, alongside her mother-in-law Judy Turner, of Worthington, who was selling custom wreaths and lanterns.
"It was good for a rainy day," Glover said.
Her mother-in-law had purchased her a beaded pin, which served as her inspiration for her own goods.
They make the beaded items with Glover's two daughters, Ava Boore, 11, and Mallori Boore, 13, as a hobby.
"We get to spend time with the girls," said Turner. "They're growing up."
Turner said she works with her sister Trudy Cain under the name Visions of Loveliness, which has a Facebook group. Glover said she could be reached through that group as well or on Facebook Messenger.
Visions of Loveliness also sells tree-toppers, garlands, earrings, and other custom, seasonal decor.
"We do pretty much a little bit of everything," Turner said. "Someone passes away; we do custom angel wings. We do a lot of different things. We try to bring different things to the area… we do bicycle rims and wheels and lanterns, stuff that you don't see… We try to make ours unique to us."
Christopher Lacaria, of Roundabout Records, was also a vendor. He sells vintage and used records, as well as new records.
"We have contracts with distributors so we're able to get anything new on vinyl, also things that are being reissued we can get on vinyl from the labels," he said.
Lacaria, of Bridgeport said he anticipates opening a Bridgeport storefront in the new year. He said he has 25 years of experience, as well as an Instagram, @roundaboutrecordswv.
"Today went really well," he said. "We've really got a good following. Collectors in the area know if you want good-quality records that aren't damaged that Roundabout Records is the place to go. We only source high quality vinyl."
His son Zander Lacaria, was helping out.
"He's exceptional with numbers and accounting even though he's only 13," his father said. "Math is his thing."
Kaitlyn Boot, of Bridgeport, was there to help carry items and otherwise assist in closing down the event. She teaches at Lincoln High School. Sophomore teachers came together to help, she said.
Two other sophomore advisors Mary Matheny and Maria Osbourne planned the event, she said.