By LEIGH C. MERRIFIELD
News & Journal Editor
The News & Journal spoke with Rod Ashcraft, store manager at Shinnston Price Cutter, to check on noticeable differences in traffic and stock since the COVID-19 pandemic began dominating the news. Ashcraft said he has seen a marked difference in traffic, particularly after WV Governor Jim Justice spoke about the seriousness of the threat and pleaded with residents of the state to stay at home to keep cases in the state from increasing.
<![if !vml]>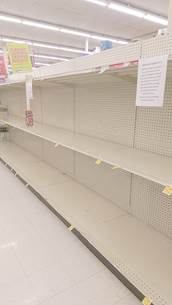 <![endif]>"We immediately noticed people stocking up when this all started, but after the Governor's speech, our customer count nearly tripled; we are setting records that may never be reached again! The downside to this," he said, "is that our surge in business is the result of something so drastic that it has taken students out of school, forced many other businesses to close their doors at least temporarily, and some people may go without a paycheck. That is something we don't like to see happen to anyone."
Ashcraft noted that the most sought-after items still remain toilet tissue and disinfecting wipes, which sell out rapidly as soon as a new supply arrives. Paper towels, bleach, flour and yeast are also items they are ordering more of.
"There is a shortage of bread," he stated. "Production can't seem to keep up with the demand, and while we can get Italian bread and wheat bread, some are not making the specialty breads during this crisis. We're guessing that suddenly customers are purchasing more flour and yeast so they can make their own bread if necessary."
One change Shinnston Price Cutter has made has been to close its doors at 9 p.m. instead of 10 p.m. That extra hour at night gives them more time to clean and disinfect as well as restock.
"We have team members who regularly clean nightly, but we are going the extra mile with this now for safety reasons and disinfecting the credit card boxes, cart handles, freezer handles, counters, and all high-touch areas," Ashcraft continued.
He also reported that independent stores like Price Cutter are more fortunate than some of the larger, big name box stores that may struggle somewhat because they utilize an automatic ordering system and, because Price Cutter does it manually themselves, this may help independent grocers somewhat.
"Getting the trucks to the store is the difficult part right now. We get deliveries every day, but sometimes those trucks are a day late and they are not always bringing us the items that are in high demand," he added. "There is also a little rationing of some items. Our warehouse is allotting every store they service so much, so we may not receive as much as we need or the brands we order. For example, they quickly out of the national brands of toilet tissue."
Another instance he cited was that potatoes are sometimes short. They were ordered and delivered, but his store recently received only 15 bags TOTAL, which is not enough to share among all the customers who want that item!
"I have been here for years and I know a good number of our customers," he added. "If I don't know them by name, I recognize their faces because I'm here nearly every day. Now I am seeing faces I haven't seen before, so we are getting an influx of people from outside the Shinnston area who are shopping here for what they can't find elsewhere."
Shinnston Price Cutter has plenty of stock in its produce department … plenty of meat … canned goods … deli items … milk … and even bottled water. However, ground hamburger and frozen dinners are highly popular right now.
"Even though cooking healthy meals is advocated in today's world, many people simply don't cook that much – like families that are busy or seniors living alone who don't like to cook for just one person," he reported. "It is a fact that about 54% of Americans dine out most of the time, and since restaurants have been forced to close during this crisis, a lot more people are hitting our coolers for frozen entrees that they can just pop in the microwave."
Ashcraft said they are not changing prices nor doing any price gouging; however, they are also not at this time advertising sales via newspaper inserts for fear the supply would not be available and we wouldn't be able to fulfill rain checks either. Customers will, though, continue to find 'temporary price reduction' items marked on their shelves. And Price Cutter, like most stores, will not be accepting returns at this time for obvious safety concerns.
Because the public has been stocking up and grocery items are in high demand, Price Cutter employees have been working longer-than-normal hours and doing their part to disinfect and help curb the spread of germs. Grocery store employees are very vulnerable now too since people can be carriers without knowing it.
Ashcraft concluded, "We are considered an essential business so we will continue to do our best to serve our community's needs. This pandemic has created challenges for everyone and it may get worse before it gets better. We certainly hope that it doesn't reach a point where we will have to limit the number of people who can come into the store at one time, but we'll face that if it occurs. In the meantime, we are doing all we can to satisfy the needs of those we serve and to put safety first."