By Kara Linaburg
Dale's Daily Deals started out of Dale Oliverio's basement in Lumberport five years ago with the help of his son, three pallets, and a love for finding bargains. At the liquidation and new merchandise store in downtown Shinnston, now people line up daily for the opening and to find good deals on things that might cost twice as much, or more, in retail stores. Dale's has many returning customers, and people are appreciative that Oliverio, the owner, has been able to keep his prices so low in a tough economy.
Oliverio sources the merchandise himself from multiple places in West Virginia, and he says that finding deals is addicting. "As much as I like selling merchandise, I like buying it more," he said "It's a gamble; You never know what you're getting."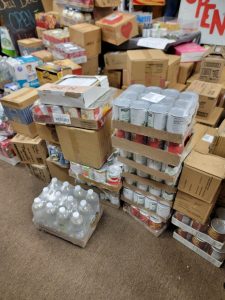 Pallets in the liquidation industry refers to the merchandise (e.g. tool pallet, sporting goods pallet) stored in a wooden structure.  Friday, they had a big load of groceries, with everything from breakfast foods, to snack items, to coffee and canned goods. Despite the cold weather that morning, a line had formed before the doors opened.
Oliverio also strives to give back to the community, and is an advocate for The Lord's Pantry and the work that they do. He keeps a box in the store for customers who want to donate money, as well as food and other supplies for the organization.
Reviews on Google and Facebook describe Oliverio and Dale's Daily Deals, located at 301 Pike St., as, "friendly," "great atmosphere," and "personable." And while Oliverio enjoys his job for multiple reasons, he says that he's most gratified by meeting people from not only Harrison and the surrounding counties, but also travelers who happen to see the store and stop by. He loves getting to know them and hearing their stories.
Store hours for Dale's are currently 4 p.m. – 8 p.m. Tuesday and Thursday, 9 a.m. – 5 p.m. Friday, and 9 a.m. – 4 p.m. Saturday.