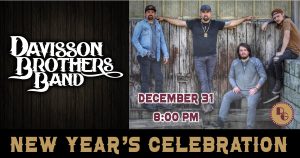 By Dawn Hensil
Staff Writer
For the second year in a row, The Davisson Brothers Band is planning a New Year's Celebration at the Robinson Grand Theater.  
"We grew up in that theater and played many shows there as well," Chris Davisson said. "That means that anytime that we perform there is special to us."  
At this year's celebration, The Davisson Brothers plan to bring Nashville back to Clarksburg with them.  "We want to bring the best of both worlds to Clarksburg," Davisson said.
The band includes singer Donnie Davisson, who "commands attention with his working-class, Van Zant-like vibe," according to a press release. The band also includes "guitar player extraordinaire" Chris Davisson, the release states, and drummer Aaron Register.
The Davisson Brothers have been hard at work on their new album in Nashville with producer David "Ferg" Ferguson, known for his work with Tyler Childers, Margo Price, Sturgill Simpson, and Brent Cobb, so their return trip home for the holidays and a celebration in their hometown couldn't make them more excited.  
Chris Davisson said, "While working on this upcoming album, we were made aware that the majority of our songs were about our home state and we look forward to coming back to our hometown".         
"The theater was closed for many years, but when we heard that there were plans to restore and reopen The Robinson Grand, we decided to make this our home," he added.
"The sonics are based on old-school rock 'n' roll, while the messages support all-American fundamentals: family, self-determination, and satisfaction in a job well done," the release continues. "The Davisson Brothers Band, hailed as Rolling Stone Country '10 New Country Artists You Need to Know,' boasts musical foundations that are classic, obvious, and etched in stone."
The band brings two openers to join them.  The first will be Nashville-based artist/songwriter Ben Chapman.  According to the Robinson Grand, "Ben Chapman has garnered early attention for his soulful voice and country-blues guitar playing. He is heavily influenced by the sounds of the '70s, pairing groove-driven music of bands like the Allman Brothers with compelling, pithy lyrics akin to those of Guy Clark and Roger Miller, cooking up a tasty serving of country jam band ear candy." 
Following Ben Chapman is Paul McDonald. "Paul McDonald's voice is immediately recognizable and impossible to ignore," according to the news release. "Often compared to legends like Mick Jagger and Bob Dylan, the poetic story-driven narratives and deeply catchy hooks in his music are delivered by a raspy yet refined voice reminiscent of another era yet that demands to be heard right now."
This celebration is sure to be an exciting one with the return of a town favorite as well as some new faces to the Robinson Grand.  
Tickets are available at therobinsongrand.com or by calling 855-773-6283.  Tickets are priced in three tiers: $29, $45, and $59, depending on the proximity of the stage.  The show is set for Dec. 31 at 8 p.m. with the doors opening at 7 p.m.  Concessions will be available.