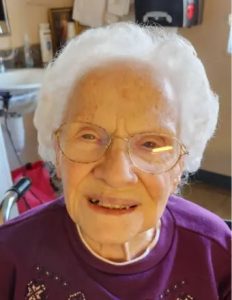 Doris Jean Stiles
Doris Jean Stiles, 96, formerly of Shinnston and Clarksburg, passed away on Thursday, August 31, 2023, at the Crestview Nursing and Rehabilitation Center in Jane Lew. She was born in Grafton, February 19, 1927, a daughter of the late Herman and Stella Haller Stiles.
Doris was preceded in death by her husband of 44 years, Edgar M. Stiles, whom she married July 28, 1947. Also preceding her in death are two sisters, Kathleen Kester and Mable Butcher-Bush; two brothers, Harold Kester and Brooks Kester; one granddaughter, Vanessa Jean Rush McNemar; and a grandson, Jason Edgar Stiles.
Surviving are her son, David M. (Frances) Stiles; two daughters, Deborah A. Stiles Rollins, and Valerie A. Harris; five grandchildren: Tracy (Eddie) Dean, Audrie (Kevin) Summers, Benjamin Harris, Jennifer (Joe) Gilpen, and Julia (Bobby) Nuzum; nine great grandchildren: Danielle (Austin) McNemar, Cierra McNemar, McKenzie (Logan) Matheny, Alyssa (Danielle) Dean, Sid Summers, Sloane Summers, Nathan Gilpen, Mason Gilpen, and Jessica Nuzum; one great-great granddaughter, Olivia Jean Fultineer, a baby girl Matheny due in November; two sisters, Eleanor Vilain, Clarksburg, and Joanne Hunter, Jane Lew; several nieces and nephews; and her special friend, Jacquie Davis.
Doris was formerly employed with Westinghouse, J.C. Penney and the WV Department of Highways, from which she retired. Doris attended the Simpson Creek Baptist Church in Bridgeport. The family would like to extend their heartfelt thanks to the staff of Crestview Nursing and Rehab Center and WVU Hospice for their care of Doris.
There will be no Public Services. A private graveside service will be held at the Shinnston Memorial Cemetery at the convenience of the family. Condolences may be extended to the family at www.perinefunerals.com. The Perine Funeral Home is honored to serve the Stiles family.