By Doug Comer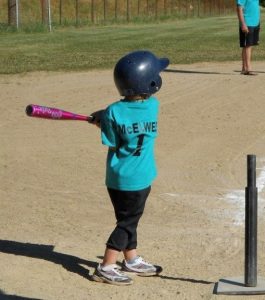 Harrison County Parks and Recreation staffer Jack Cann announced that T-ball season will begin when school wraps up for the year, and with the improvements to the fields at Summit Park, he hopes to have a big-league feel for the youngsters who participate this year.
Summit Park Complex, which the Harrison County Commission acquired four summers ago from the Summit Park Association as an in-kind donation, has been the home for countless years of softball summer programs and especially youth sports. It has seen better days, but improvements could possibly make the facility as in demand as it was in the 1970s and 80s.
"We have made some great strides in the property at Summit Park," said Director Mike Book. "The place was once the hottest ticket in town for softball teams, family reunions and especially our programs. But, through time, things just got to be a little beyond repair.  Safety issues as well as drainage issues took away its shine. But, through dollars supported by the County Commission, things are on the rise again."
Summit Park was once the biggest park of all to host the playground program as kids from the neighborhood and bordering areas of Bridgeport and Clarksburg would spend their summers there. With a solid staff and a fun and safe area, kids more or less grew up at the complex and made lifelong friendships there. 
The upper field is where the T-ball league will be operated. Unfortunately, this is the field that needs the most help. And the county outsourced a lot of the work ensuring that all things will be ready before the first pitch in June. Director Mike Book gave a detailed list of the things that will be replaced or fixed there.
"Drainage and outfield fencing has been the biggest issue on the upper field. A local contractor has taken the reigns to improving the property including replacing the backstop, improving the dugouts and digging out the drainage in the back of the property to allow the water to flow away from the field as compared to settling in the outfield. Once complete, we will replace the outfield fence and put in some new benches for the dugout. We plan to have all complete before the end of May."
Cann, who operates all recreational organized sports, has prepared flyers to be brought home for those wishing to play this summer. Signups will be scheduled in the evenings so that families can make sure they do not miss any chances to get registered.  Also, games and practices will be played in the evenings after work which makes it easy for working families to see their kids in action.
"We want to make sure that there are plenty of chances to get your child registered for the league," said Cann. "All registration dates will be here at the Rec Complex, and we just need the parent or guardian to come and register their kid.  Once the end of the registration is complete, we will pair up the teams and start practice. Please look for your flyer in your child's book bag or contact the office for more information. We will plan to post the registration form on our Facebook page as well."