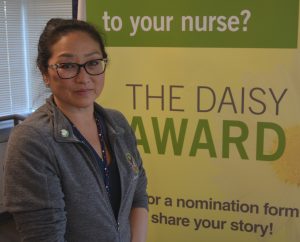 CLARKSBURG, WV – Registered Nurse, Amy Thrain, of Louis A. Johnson VAMC was recently honored with The DAISY Award® For Extraordinary Nurses. The award is part of the DAISY Foundation's programs to recognize the super-human efforts nurses perform every day, according to a news release.
The nomination submitted read: Ms. Amy Thrain was nominated by one of Louis A. Johnson's Veterans.  He was very proud to submit the nomination noting that she is responsible for saving his life and that of countless other Veterans due to her great determination.  He noted her as being GOLD!!  It was also noted that she is very dedicated to the detox and rehabilitation program for all Veterans, and she truly cares about every Veteran that enters through the doors here at Louis A. Johnson VAMC as he noted that Amy cares 110% for all Veterans.  This Veteran shared that Amy saved his life, and that is a "Big Deal," and she deserves more than this nomination for the Daisy Award; however he stated he was not very good at recognizing those so deserving.  He ended his nomination by writing, "Thank You Very Much!!"
The not-for-profit DAISY Foundation is based in Glen Ellen, CA, and was established by family members in memory of J. Patrick Barnes.  Patrick died at the age of 33 in late 1999 from complications of Idiopathic Thrombocytopenic Purpura (ITP), a little known but not uncommon auto-immune disease.  The care Patrick and his family received from nurses while he was ill inspired this unique means of thanking nurses for making a profound difference in the lives of their patients and patient families.
"When Patrick was critically ill, our family experienced first-hand the remarkable skill and care nurses provide patients every day and night. Yet these unsung heroes are seldom recognized for the super-human work they do.  The kind of work the nurses at Louis A. Johnson VAMC are called on to do every day epitomizes the purpose of The DAISY Award", stated Bonnie Barnes, FAAN, CEO and Co-Founder of The DAISY Foundation
Dr. Piper Knight, Associate Director of Patient Care Services, stated "The nurses here at the Louis A. Johnson VAMC provide the best care to our Veterans and this is an outstanding example of the dedication, attention, determination, and engagement our nurses strive to provide to all Veterans.  As we celebrate Nurses Month this is another exemplary attestation to the care provided to our Veterans and the gratitude from our Veterans."
For a complete listing of healthcare organizations currently running the program, please go to http://DAISYfoundation.org
In addition to the DAISY Award for Extraordinary Nurses, the Foundation expresses gratitude to the nursing profession internationally in over 4,600 healthcare facilities and schools of nursing with recognition of direct care Nurses, Nurse-led Teams, Nurse Leaders, Nurses Advancing Health Equity, Nursing Faculty, Nursing Students, Lifetime Achievement in Nursing and through the J. Patrick Barnes grants for Nursing Research and Evidence-Based Practice Projects, Medical Mission Grants their new Health Equity Grant program. More information is available at http://DAISYfoundation.org.