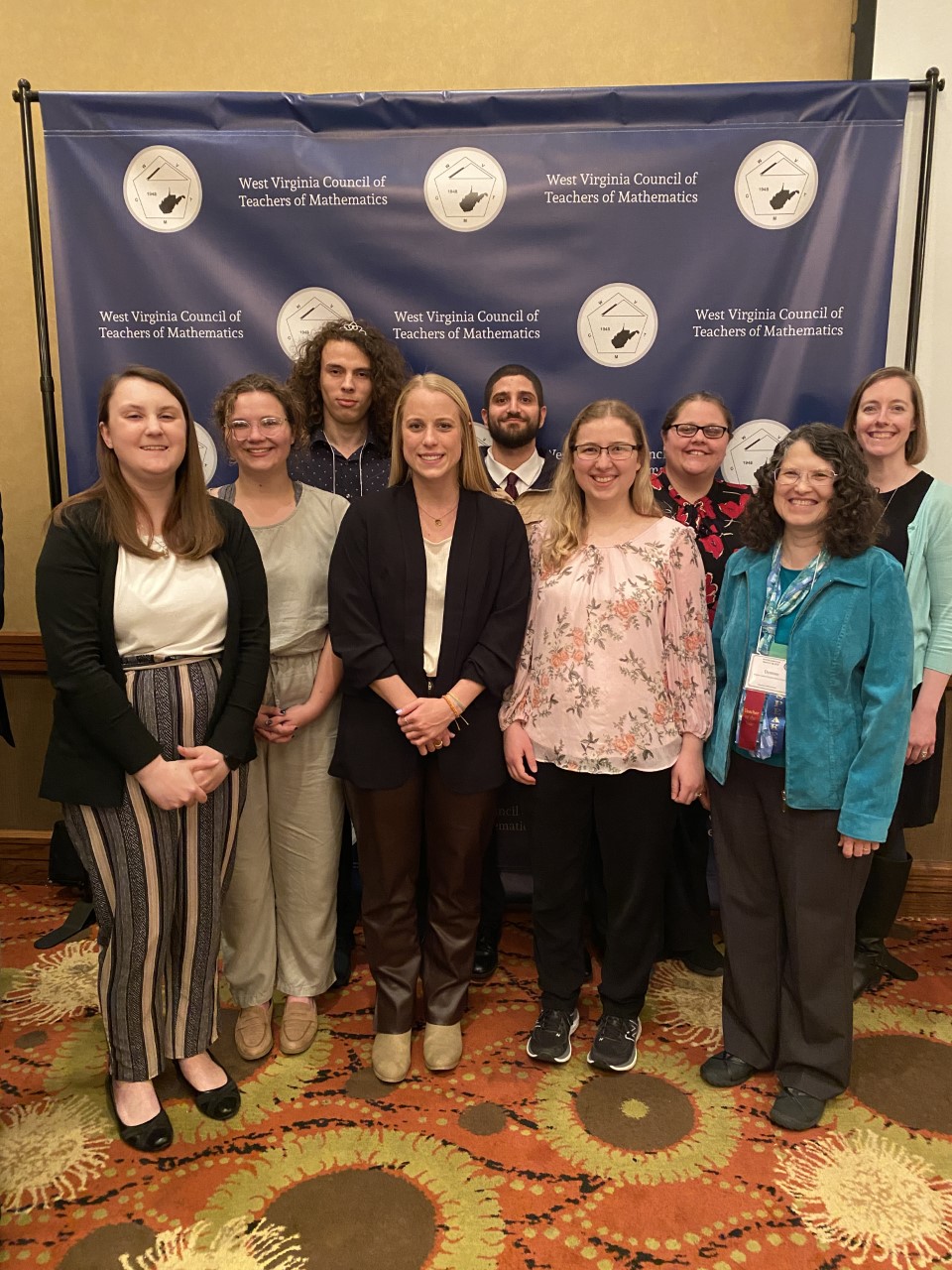 FAIRMONT, WV – Five Fairmont State University faculty members and six students attended the 2023 West Virginia Council of Teachers of Mathematics (WVCTM) Annual Conference from March 17-18 at the Stonewall Jackson Resort in Roanoke, West Virginia.
"The WVCTM conference always renews my enthusiasm for teaching mathematics," said Associate Professor of Mathematics Dr. Stephanie Jones, in a news release. "It's a great opportunity to network with current math educators, reconnect with my own mentors, and introduce math teacher candidates to an organization that can support them as they begin their careers."
Two Fairmont State faculty members shared academic presentations at the conference. Dr. Jones presented a session titled "Fun with Fibonoacci." Professor Dennine LaRue presented a session titled "Reflect on This!" Faculty members Dr. Brian Blackwood, Amanda Smith, and Dr. April Townsend also attended and represented Fairmont State.
"The WVCTM conference was a wonderful experience that gave me an excitement to teach math," said Fairmont State University student and teaching candidate Brianna Rearick. "As a teacher in training, this experience helped me meet a variety of teachers and gain experience that will benefit me in my future classroom. It opened my eyes to new opportunities and widened my mathematical teaching skills. I hope to be able to return in the future to further develop these skills."
The WVCTM conference offers a unique opportunity for teacher candidates to receive mathematics-specific professional development and to network with other West Virginia teachers before they graduate. The six mathematics teacher candidates in attendance were David Desmuke, Kayla Fogle, Saeed Kuzmar, Brianna Rearick, Hannah Ruckle, and Kaitlyn Stumpf.
"It was very inspiring to attend the WVCTM conference for the first time," said Ruckle. "It was wonderful connecting with teachers who share the same passion for teaching mathematics. I can't wait for next year!"
The two-day conference focused on learning from other mathematics teachers in West Virginia about ways to improve mathematics instruction. The keynote speaker was Steve Leinwand. His presentation, "Let's Be Blunt," was a call to action for mathematics educators to make "bottom-up" changes as we work to overcome obstacles that hinder great teaching and deep student learning.
To learn more about the WVCTM, visit https://wvctm.com.