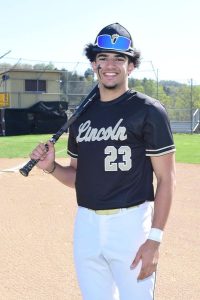 By Stephen Smoot
Shinnston High School landed five players on the local all Harrison County baseball squad. 
Corbin Ayers, Lance Hostuttler, and Nick Kellar earned first team honors. 
Ayers had 37 hits in 80 at bats for a .462 average. And racked up a 3-1 record appearing in ten games as a pitcher. He was second on the team in runs batted in with 25 and first on the team with a slugging percentage of .637 and 37 hits.
Hostuttler led the Cougars with 25 RBIs and a batting average of .473. He also enjoyed a team leading .574 on base percentage and placed second on the squad with 10 stolen bases.
Kellar led the team in runs scored with 37 and had a team third best batting average of .403.  He achieved a fielding percentage of .939.
Voters chose to place Maddox Perine and Noah Sears on the second team. Perine hit for a .313 average and an on base percentage of .421. He had 21 hits and 17 RBIs. Sears has a .320 batting average with a .427 on base percentage, 24 hits, and 28 runs scored. 
Selection is made from the county's high school coaches as well as members of the Clarksburg Exponent-Telegram staff,