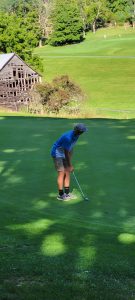 By Bill Nestor
This week's edition of Tee It Up focuses on The Highlands at Fisher Mountain. Built in 2016 by Bill Ward, this 18 hole championship course ranges 6,796 yards from the tips. Tha backdrop of the Potomac Highlands is spectacular and is the perfect scene-setter for a tremendous round of golf in Franklin.
This was my first trip to The Highlands and I was thoroughly impressed. I was extremely fortunate to play with local legend Charlie Burgoyne. Charlie is one of the nicest men I have ever met and he knows the course like the back of his hand. At least 50 times during our round, we would ask Charlie a distance  and would double-check it, only to find that he was spot on.
This golf venue's breathtaking, but don't get caught gawking, or this monster will take your lunch money. This is one of the most challenging venues in the Mountain State and if the most difficult pin placements ared utilized, it will provide a long day in the office for even the lowest handicapped golfers.
Every hole at The Highlands has character and its own intricacies. This is a detail driven course that possesses an island green in its signature hole, number 10. It's a downhill par four that is surrounded by a five acre lake. Number 12 caught my eye, a par five that plays 515 yards from the championship tee. From the middle of the fairway, you can look straight up at the mountain and see the cutout of a hole in the distance.
The Highlands is in impeccable condition. There are only 20 to 25 members so the course doesn't see too much play. The staff is friendly and their work ethic is evident everywhere you look. According to Charlie, the four workers are the most they have ever had on staff and it's hard to imagine how they accomplish so much.
This is a special place that I dub a "must play." If you have ever played this gem, you need to make The Highlands a priority. I'm already planning a return trip this fall.