By Kara Linaburg
Kathleen Panek's dream to open a bed and breakfast began when her children were young and they visited a bed and breakfast on a family vacation. After leaving that following morning, she thought, "I could do that." 
Now, after owning and running her own for the last 20-plus years, she said, "I really enjoy it, because as I tell folks, 'people pay me to come entertain them.'"
After raising their children, Panek and her husband moved from Illinois back to Panek's home state of West Virginia. "On January 4 of 1995, the moving van was unloading in front of 35 Walnut St.," Panek said. "And after most of it was unloaded, the helper was standing in the doorway looking around and he says, 'yep, you moved to Mayberry.'"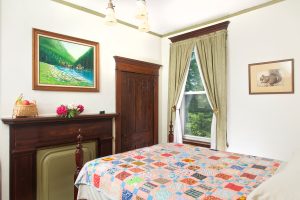 In July of 1996, the Gillum House Bed And Breakfast doors were opened. "I enjoy cooking; I enjoy cooking for my guests and making them feel special, because that's why you go to a bed and breakfast," Panek said. "I only have three rooms, and if I had a fourth room I don't know if I could manage it, but I only have three rooms." 
Panek said that over the course of the last 20-plus years, her bed and breakfast has opened doors for people to visit Shinnston from all over. "I've had people come from all over the world that have been here, from Germany, England, North Wales, Korea, Spain, Singapore, Mexico, and Canada of course, and all over the United States. I had a couple from France of April of last year, and (in) May I had a family from England." 
The bed and breakfast offers elopement packages as well. Panek said that she has had couples come to elope at her bed and breakfast, where the package includes a night in the Gillum House, the minister, pictures, a small two-tier wedding cake, and more. 
"Last August, I had a couple come back for their five year wedding anniversary because they eloped and were married here," she said. "And when he booked the reservation online, he put in the comments, 'I hope you still have the venison sausage available.'" 
Guests get to choose their breakfast meat and time to eat, and Panek said that in the past when she'd allowed, some guests had chosen as early as 4 a.m.
 Panek does what she can to make guests feel at home. She said that when she had a visitor from Canada who liked to leave at 3 a.m., she made sure to send her on the road with a to-go breakfast so she wouldn't leave hungry.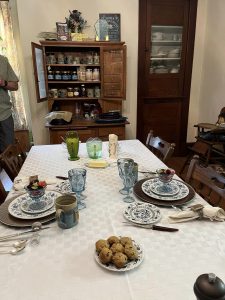 Panek also loves that she is able to serve locally and West Virginia-sourced breakfasts. "I am able to serve fruit from my own yard during the summer. I have blackberry bushes and I have some blackberries in the freezer to get me through for the time when the season is done. I get my eggs locally. I buy a pig from the butcher from over in Flemington, so I know where the meat came from. My venison comes from Ritchie County, so I used locally sourced foods, and I really enjoy what I do."
"Just all the personal stuff and the good cooking make it a wonderful place to visit," Sandy Starek, once a frequent visitor to the bed and breakfast, said. She had only good things to say about Panek as a host, and said she couldn't recommend Gillum's house enough.
 Aside from the time Panek spends working at her bed and breakfast, she said that she enjoys being involved in her community as much as possible. She is part of various clubs, director over the Lord's Pantry, and serves as city clerk.  
"I get to live in Shinnston," she said."It's a wonderful place to live."