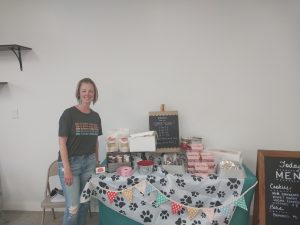 By Kara Linaburg
From 5-8 PM, July 6, Amanda Sayers of Shinnston hosted a Girls Night Out event, one of several in the GNO series being held over the summer months at her business, Home Style on 604 Pike Street. This Thursday's event was special to her and her friend helping co-host the event, Megan Oliverio of Sweet Events, because a portion of the profits made that night were going to the Harrison County Humane Society. 
This GNO was a fundraising event for the cause, and the Humane Society was also in attendance, with several adoptable kittens under ten months and a dog. The animals were a big hit among the guests both young and old. Several children enjoyed feeding the dog treats and cuddling the kittens. 
Despite the rain, Sayers said on a live video on facebook that "it hasn't held anyone away," and as the first hour of the event ticked by, guests, sometimes in groups, began to trickle into Home Style. 
Guests had the option to enter the various raffles, including Oliverio's strawberry cake and a Kate Spade purse, to buy shaved ice from the food truck outside, donate food for the animals or kitty litter to the Humane Society, and browse and purchase from several vendors who had merchandise on display. 
Pokurio Creations from Bridgeport was one of the vendors in attendance and had nerdy stickers, keychains, bookmarks, and items made out of resin for sale. The owner said the stickers and bookmarks she'd drawn and designed herself, and had a variety of fandoms represented for the nerdy heart, including Lord Of The Rings, Pokemon, and Harry Potter. 
Oliverio said that she has participated with Sayers on past GNO fundraising events for the Humane Society. She had baked a variety of cookies and brownies to sell that night at her table, with a part of proceeds going to the society. Less than an hour into the event, she had already sold out of her sugar cookies and had several dozen entries for her raffle. 
Sayers said that while none of the animals brought to GNO were adopted, "they had lots of interest" from attendees. 
For those who were unable to attend the event, you can still donate in the following ways…
 Paypal to director@hshcwv.org, Venmo to HSHCWV, Mail a check to PO Box 4397 Clarksburg, WV 26302, or call in to pay by phone 304-592-1600.