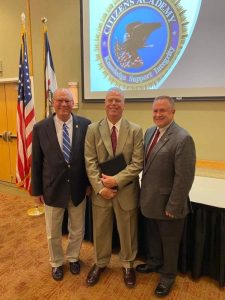 By Stephen Smoot
"This is the first time ever that we have done something like this in Harrison County."
So reports Mike Lambiotte of the Harrison County Deputy Sheriff's Reserve concerning the upcoming inaugural Citizen Sheriff's Academy. Its goal lies in creating in depth training and education to show citizens the real work of  local law enforcement.
Lambiotte had previously attended an FBI Citizen Academy. According to the FBI website, these "give business, religious, civic, and community leaders an inside look at the FBI." The mission of these lie in fostering "a greater understanding of the role of federal law enforcement in the community through frank discussion and education."
The FBI version gave Lambiotte inspiration to recreate the program and all of its community benefits on the county level. "We want to make sure it's not a Clarksburg and Bridgeport academy, but make sure to include the whole county." 
Participation from all county communities will ensure that the sheriff's department gets the most benefit from the feedback aspect of the Academy.  
"We borrowed a lot from the FBI Citizens Academy," Lambiotte explained, then added that they also took inspiration from sheriff's departments in West Virginia, North Carolina, and Florida. They focused on " a lot of hands-on" education, including a "range day" where attendees under supervision and with guidance can "fire weapons the sheriff's department uses," such as ARs, tactical shotguns, and more.
According to the department's news release, the mission is "to further a greater understanding of the role of the Sheriff throughout Harrison County," through use "of demonstrations, lectures, PowerPoint and videos, interactions, hands on, guest presenters, and frank discussions."
The Academy will cover a variety of topics, many of which lie outside the direct notice of the public and media. These include "Courtroom Procedures, Staging (jail and transport), Court
Security, the role of the Bailiffs; Process Division, those who serve papers; The Tax Division; The work of Detectives . . . The Patrol Unit . . . and scenarios deputies face every day in the field from traffic stops to violent crimes; K-9 Team, with training and demonstrations."
Sessions start on August 10 and last until the Oct 5 graduation. Sessions take place once per week with a special range day session on Sept 10. Jeff Sandy, a former US Treasury Agent, Sheriff of Wood County, and current West Virginia Secretary of Homeland Security will attend graduation as the guest speaker.
Those eligible must live in Harrison County, be 18 or over, have no conviction or pending charges on a personal record, pass a background check, and meet all other terms and conditions laid out on the application. Those turning in applications who meet those conditions will be accepted on a preliminary basis pending results of the background check. Final selection decisions are made by the Harrison County Sheriff.
"When they graduate," Lambiotte explains, "they will know more than any other civilian about how law enforcement works, what their deputies deal with, including all of the uncertainties on traffic stops. They will be the most well-informed people in the community."
He also explained that "they will become ambassadors for the sheriff's department and they will have direct links back." Just as important, "the sheriff's department will know more about the community."