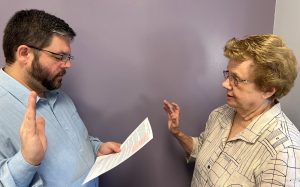 HCSCC Board of Directors Actions at the September 28, 2023, Board Meeting
The HCSCC Board of Directors met on Thursday, September 28, 2023, in a hybrid fashion in-person in the boardroom and on Zoom. The following Board actions were Taken:
Linda Coffman was sworn is to fill the remainder of the board position held by Satellite Council of Presidents President Sharon Hamilton, who recently resigned from the board.
The Board adopted the Center's budget for Fiscal Year October 2023 – September 2024 as presented by the Finance Committee. It then authorized the use of the Center's tables for the VA's "Stand Down" event to be held on October 26, 2023.
The Board next approved the FY24 Title III Notification of Grant Award letter and FY24 Standards and Conditions as required by the WV Bureau of Senior Services and also recognized Sharon Hamilton for her long standing service on the Board with a Certificate of Appreciation.
The next Board meeting will be held on Thursday, October 26, 2023, at 9:30 a.m. in person in the boardroom and on Zoom.
2023 – 2024 Board Officers and Members
Ryan Kennedy, President, Bill O'Field, Vice President, Franklin Hairston, Secretary, Betty Waddy, Treasurer, Carol E. Brown, Linda Coffman, Janet Dotson, Will Hyman, Harley Jeffries, Bill Phillips, Donna Stuart, and Susan Thomas.