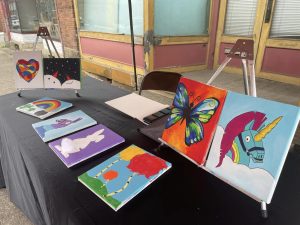 By Stephen Smoot
Over six months ago, an artistic dream for some and opportunities for many others commenced on Pike Street in Shinnston. In the former home of the Shinnston News and Harrison County Journal, The Pallette opened as both an art gallery and a forum for classes, events, and more.
"I helped with getting the gallery to open, says curator Bethany Nuzum. She added that "It was a group effort with the Shinnston Arts Foundation."
In April Brendan Gallagher, Shinnston Arts Foundation President, told WBOY that "there's so many people that you don't realize are here and are amazing artists, amazing musicians, and we just want to give people those opportunities through the studio, through the gallery, through our venues in town to be able to show off what they can do creatively."
Another goal of the gallery lies in welcoming people who have never been to an art gallery, especially young people. "It's nice to get the kids to love art early," especially those who have never experienced art in a gallery setting.
Nuzum brings both experience and passion to the role. She earned degrees in both painting and art history and "a year ago, I was accepted at Tamarack." Nuzum's specialty lies in abstract expressionism on large canvasses.
One could also say that art runs in her DNA with both of her parents serving the community as art teachers until retirement. She recalled helping her father to run a 19th century printing press that he and a friend had reconstructed at Fort New Salem. They would run off historical and other documents, such as the Declaration of Independence.
The gallery has held two exhibitions. One started in April and featured pen and ink, painting, and even tattoo artistry. Last month, The Pallette featured an animal life art exhibition, focusing on the work of Pam Schlosser, Nancy Maunz, and Jeff Sims.
The gallery has also shown the work of local middle and grade school artists. "It brought a lot of families in," said Nuzum, who also said "they did really neat portraits. It's going to be fun to watch them as they get older and create more art."
Classes also form a core part of the gallery's mission to get more people involved and find new local artists to feature. Recently, she led a class in teaching various techniques to use colored pencils. The students practiced using coloring sheets, but learned that the pencils were not merely for coloring in.
Nuzum explained, for example, a technique for using the white pencil. "It's used to blend colors together," she said, describing a technique called "burnishing."
Another class for which Nuzu has high hopes will take place on the second Tuesday of each month is neurographics, a form of "mindful art." As she describes it, neurographics is "a very relaxing form of art" helpful in "reducing stress, anxiety, and even, at times, physical pain. 
Nuzum stated that some going through grief have also found going through the step by step process underlying neurographics as helpful in working through it. "Everyone gets quiet," she stated, "because you really are relaxing."
The first Tuesday of each month, Nov 7 next month, will have a children's painting class from 6 PM to 7:30.
Nuzum said that The Pallette has received crucial support from the Cultural Foundation of Harrison County, as part of their mission to promote "a dynamic arts and culture community."
"One thing I like is that the gallery brings recognition to artists that had not been getting before." Nuzum also wants "to bring awareness of the arts" and continue to build "a place where you can go and see original artwork."
The Pallette also includes a gift shop that sells original works and also reproductions of some artists' work on cards. Nuzum encourages everyone to check their social media pages on Facebook and Instagram for viewing hours, classes, and other events.
Appreciation of art can lead to an opening of the mind to the beauty around. "Art is in everything," Nuzum explains, "it's in the buildings in town, the streets, all of our surroundings." 
Experiencing a gallery and the skilled local artists featured within it can help to bring such an appreciation to life.