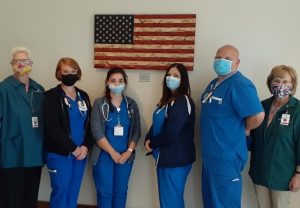 A special American flag now hangs at the entrance to United Hospital Center (UHC).  The wooden flag is handmade from pine planks, and then glued, carved, stained, and torched.
Referred to as the Heroic Flag, it is the creation of 16-year-old Lorenzo Liberti of Florida.  Liberti and his family selected one hospital impacted by COVID-19 in each state to receive a piece of his handcrafted patriotic art.  When it was West Virginia's turn, they chose UHC.
The idea of giving back first occurred to Liberti in January 2019, when he went with his church to feed the homeless and where he also met a veteran in need.  This life changing experience opened his eyes and heart.
After much praying and struggling to figure out what he could do, Liberti's prayers were answered.  He discovered a DYI project that he wanted to try.  His dad helped him get the right tools and materials.  After a few attempts and some modifications, Liberti completed his first rustic American flag—Heroic Flag.  
He works after school, on weekends, and during what little spare time he has to complete the flags.  He enlists the help of his mother and sister, as they both enjoy painting.  
"Lorenzo is an inspiration to all of the employees at UHC," said Denise Steffich, volunteer coordinator to the Auxiliary to UHC.  "We are honored to display his art, as it is a constant reminder of the good that exists."
To learn more or inquire about getting a flag of your own, visit www.heroicflags.com.