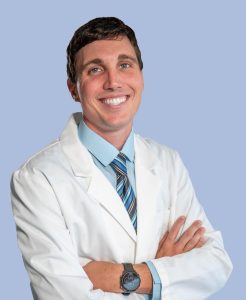 Bridgeport, WV—Dr. Davisson Wriston, who specializes in rheumatology, comes home to practice at United Hospital Center after completing an internal medicine residency at Geisinger Medical Center in Danville, PA and most recently completing his rheumatology fellowship at West Virginia University.  Dr. Wriston grew up in the community of Lost Creek, WV.
 He graduated cum laude from West Virginia Wesleyan College, Buckhannon, WV, with a bachelor's degree in chemistry before going on to St. George's University School of Medicine, Grenada, West Indies, where he received his medical degree.
 Dr. Wriston has assisted in developing curriculum, including a video lecture series, has been published, and involved in research. He also has volunteered his time with a soup kitchen, sports events for underprivileged children, and after-school programs.
 In his time away from his medical work, he enjoys sports (basketball, tennis, and soccer), mountain biking, and agriculture.
 He is a member of the American College of Rheumatology and American College of Physicians.
 Dr. Wriston joins UHC Rheumatology, Gbemisola Olayemi, MD; Jennifer Reams, DO; and Kubra Bugdalyi, MD.  UHC Rheumatology is located at 120 Medical Park Drive, Suite 100, in Bridgeport, WV.  For more information, please call 681-342-3490 or visit www.wvrheumatology.com.