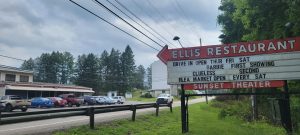 By Stephen Smoot
A year before Harry Truman's improbable re-election, two years after the United States and the Allies triumphed in World War II, and just over three-quarters of a century removed from today, Sunset Drive In entertained its first customers.
A list of original owners posted on the "I Like Shinnston" Facebook page were Steve Medve, Alex Silay, Charles Perez, and Lawrence Bermejo. Concessions seemed to be a family affair, managed by French Howell, with Helen and Alvina Howell assisting. The cashier was Virginia Howell and the projectionist was Bill King, apparently aided, and sometimes obstructed, by a pet monkey. The theater's sales team was Virgil Martin, James Blake, and Sub DeFazio. Tomes Roach and Billy Blake sold tickets, while Jack Skinner, Joe and Pat Tate, and Fred Price helped drivers to place their cars.
When moviegoers looked for a bite to eat, prepared most likely by the Howells, they got to enjoy the unique experience of being served in a streetcar. Though long since replaced by a full service diner, many still remember grabbing food from it. A photo of the original stand hangs on the current wall of the restaurant.
Sunset Drive In's first year run lasted from August 31 until November 19. 1947. Since then, Baby Boomers, Gen Xers, Millennials, and younger have come to enjoy dinner and a movie in countless numbers. The Sunset opened up only 14 years after the first official drive in theater appeared in New Jersey. 
The owner of the original, Richard Hollingshead, built it because he felt that the conventional movie theater seats were too small. He may have hit on another feature when he announced "The whole family is welcome, regardless of how noisy the children are."
In 1958, the nation hit its peak numbers of drive ins, according to the Los Angeles Times. By 1988, there were only 2,074 and the number has continued to decline. Only in recent years has the pandemic inspired  idea of social distancing, plus nostalgia, helped  drive ins to seea renewed interest nationwide. Currently, the Sunset is one of three drive ins currently regularly operating in West Virginia.
Rocky Morgan, current owner of the Sunset and Ellis, seeks to keep beloved traditions alive, while also adding updates for 21st century tastes. He took over from Anthony and John Ellis, who ran the business until last year.
"God blessed us," Morgan explained, "we were able to work out an agreement, and here we are." He explained that the Ellises worked hard to keep the theater going despite national trends Morgan explained "you could say it was the passion that they had to keep it open"
The drive in serves as more than just an attraction for locals. Morgan shared that "we've had people from Charleston, Huntington, from up in Pennsylvania."
Morgan remains determined to keep what customers have loved about each for generations, while adding new looks and flavors to attract younger customers as well. "We want to add some stuff," he said, "We upgraded the inside. We're fixing the outside. We want to get the community and families involved. We want to make it more community and family oriented."
As far as the menu at Ellis' is concerned, they will keep old favorites like open faced roast beef, American, and Italian favorites. "We make our lasagna homemade, our spaghetti sauce homemade, meatloaf homemade too." He added that they are adding new favorite flavors like chicken bacon ranch sandwiches and said "we have a different twist on steak hoagies."
Aware that those who have patronized the restaurant for years may fear changes, he said "we just want them to come and enjoy and have an open mind."
More importantly, Morgan sees Ellis as an important part of the life of the community and all of their customers as special. "We want to make them feel like they are a part of the family."
Postscript: This article owes a huge thank you to the "I Like Shinnston" Facebook page. Completely without knowledge of this piece, members last week posted information about the history of the establishment. The page and its users deserve credit for the historical information.