By Jim Hunt
When traveling, I like to look for innovations in the cities that I visit. It sometimes gives an indication of what we might see on our streets in the near future. On my recent trip to Paris and Amsterdam, I saw several things that were interesting and notable. 
As soon as we left the airport in Paris and got into a cab, I noticed that the cab was a hybrid gas and electric vehicle and when stopped at a traffic light, the engine would stop and reengage when the light changed. While this technology is in many cars in the United States, it was in every cab that we took during our trip. 
In addition, there were several charging stations along the streets and everyone we passed, had a car plugged in. This is not surprising, since the gas prices in Europe have always been more expensive than in the states by several dollars a gallon.
There were also a lot of electric scooters in both Paris and Amsterdam with people of all ages whizzing by at speeds faster than what would seem safe for the city streets. With all the motorcycles, bicycles, scooters and pedestrians sharing the roads, we did not see any accidents during our trip. There was even an electric "wheel" vehicle that we saw several people riding. It consists of a large wheel, about eighteen inches in circumference with two footrests for the rider to stand on. Dangerous would be an understatement! I had not seen these types of vehicles in the United States, but I would bet they will be on their way to our shores soon.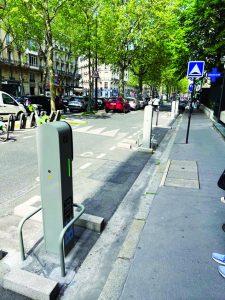 Another thing that I noticed is that it is becoming increasingly difficult to travel without having cell service. My phone plan allowed me to use my phone, much like I do at home, for ten dollars a day and it would have been almost impossible to not have it available. Most restaurants use the QR codes for their menus and I would have to say that it is nice to scan the code and select the language of your choice. I'm sure this saves a good bit of money and makes it easy to have multiple languages available for an international clientele. The various smartphone map programs replaced the unruly folded paper maps and guided us from one place to another. I would have to say that they are not perfect, and it did lead us astray a couple of times. 
Trains, buses and planes are all using the boarding passes on your phones and while it is possible to still use the paper ones, the majority of residents have gone digital. I was a little surprised that most of the cabs asked for cash, but I think that may have been because they were trying to avoid taxes. Long gone are the days of using traveler's checks or even changing money to the local currency. Although the Euro is universal throughout the European Union countries, credit cards are accepted everywhere and most waive foreign transaction fees, so it works out quite well. Tipping is generally not required as they add a service fee onto the checks. 
As far as clean energy, wind farms are very visible in both France and the Netherlands, and we saw hundreds of modern windmills on our train ride from Paris to Amsterdam. We also saw several of the iconic windmills that provided energy for centuries in the Netherlands and are a popular trinket in many of the gift shops. 
I'm sure smaller cities in France and the Netherlands differ a great deal from Paris and Amsterdam, much like how cities in West Virginia are quite different than cities like New York and Los Angeles. Just another reason I love all of the Amazing cities around the world!