By Jim Hunt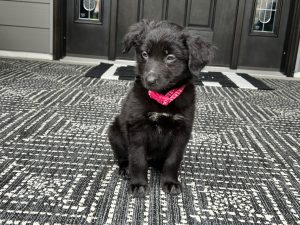 I came home recently, and my wife said she had some good news. I couldn't imagine what luck had befallen our happy lives. She then informed me that the Humane Society had four female puppies and we might be able to get one of them. While I hadn't thought that we needed another dog, my wife was convinced that this was the perfect time to adopt another dog. We still have Jack the Wonder Dog, and he is approaching eleven years old and has been a true blessing to our family. After discussing the challenges of training another puppy, we decided that adopting a puppy might be a good thing for Jack and we would enjoy it ourselves. 
The process for adopting a puppy is similar to applying for a mortgage. You need to fill out an application that covers all the facets of owning a dog. Do you have a fenced-in yard? Will you be gone for long periods of time? Are you prepared to spend time with the dog? I know these questions are necessary and making sure that people understand the responsibility of owning a dog makes for a better transition for the puppy. After successfully filling out the application, the Humane Society reviews the applications and decides if you are a good match for the dog.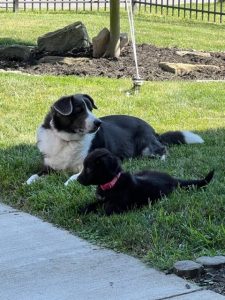 After a couple of days, we learned that we were approved to adopt Rose, a black, border collie mix who was one of four female puppies that the staff at the Humane Society named "The Golden Girls." When we went to the Humane Society to pick up Rose, the staff was very thorough and made sure we knew when to bring Rose back for her shots and for spaying, which is done around six months. As we waited for them to bring out Rose, I noticed how caring the staff was with the variety of dogs and cats at the shelter. The shelter is also extremely clean and well taken care of. 
My wife decided to change Rose's name to "Zoe Rose," and I think it fits her personality. The first evening away from her siblings caused Zoe to spend half the night whimpering and crying and my wife ended up sleeping on the couch with Zoe nestled against her chest. Jack the Wonder Dog couldn't figure out who this new little furball was and why she was running through the house like someone set her tail on fire! 
After a few weeks at her new home, Zoe Rose is part of our household and sleeping through the night. She occasionally chews on the rug under her crate which frustrates my wife to no end. We've gone back to the Humane Society a couple of times for Zoe's booster shots and each time, the staff is excited to see her. 
We are so happy with our new puppy but beyond that, we are so happy that the Humane Society exists and provides our community with compassionate care for animals that are rescued from deplorable conditions. Please support the Humane Society, they do Amazing work and do it with a smile.