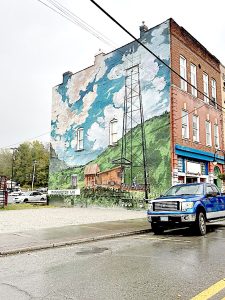 I had the pleasure of visiting the town of Mannington this past week and meeting with Mayor Lora Michael. Over the years I have driven through Mannington many times and when I worked for the West Virginia Housing Development Fund, we did several projects in the town. I was always impressed with the architecture of many of the buildings and homes and the layout of the streets. It highlighted the rich history of Mannington and its role as a prominent economic driver in the state around the turn of the century. 
From the late 19th century to 1917, Mannington's population grew from around 700 to over 4,000 and it had its own trolley system, electricity, theaters, schools, fire department and other amenities. My dad, who grew up in Hundred, West Virginia always spoke of Mannington as being a thriving town in his youth and he remembered many times going to Mannington.
Mayor Michael told me of some of the plans for the town. Her face lights up when she talks about the recent award of a grant to remove some vacant and dilapidated houses. She has photos of each of the houses taped to her file cabinet and said she can't wait for the day that she gets to pull each of the photos down as they are demolished. She said she spends a good bit of time each day calling state officials and others to put in a plug for her town. You can tell she has a passion for the town and seems to enjoy her job, even with the occasional setback. 
Some things that I noticed on my visit were a beautiful mural that is painted on an old, red brick building in the center of town. It covers the entire side of the building and may be one of the biggest murals in the state. It features a scene of an old oil derrick with a barn, set against the green countryside and a cloud-filled sky. Murals have become a great way to attract visitors and give the town an identity and focal point for a snapshot of history. 
I always encourage cities and towns that to "go big" with attractions like murals. Since most murals are viewed at a distance, using the entire side of a building gets people's attention and is memorable. In addition, with everyone having a camera on their phone, having a mural as a focal point is a great place for visitors to take pictures.
Another stunning feature of Mannington is the beautiful Mannington Public School, built in 1902. This red brick building is one of the most significant school buildings in the state and shows the investment that was made when Mannington was growing as an oil and natural gas producer. The building has a large clock tower and three impressive arches in the front. You can almost imagine schoolchildren in the early 1900s walking through those arches on their way to class.
If you like large Victorian houses, Mannington has several on almost every street. Many are kept in pristine condition and have wrought iron fences and well-kept shrubbery. One could spend a day in Mannington just admiring the buildings, having lunch in one of the many restaurants or enjoying the downtown park. The park was constructed on land that once housed the Wintergarden Hotel and Restaurant, which burned down in a devastating fire several years ago.
If you are looking for a pleasant drive and a beautiful small town, you cannot go wrong by putting Mannington on your bucket list. And don't forget to stop by City Hall and say hi to Mayor Lora Michael, an Amazing small-town mayor!