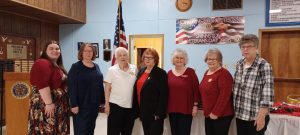 Submitted by Betsy Turner
The American Legion and the American Legion Auxiliary Departments of West Virginia, 3rd District, elected officers when they held their annual spring conference on Saturday, March 4, at American Legion Post 31, Shinnston.
This year had a record turnout of approximately 100 people from throughout the state.
The joint session was opened with a prayer by American Legion Department of West Virginia Historian and Acting 3rd District Chaplain Robin Shingleton and brought to order by 3rd District Vice Commander Cliff Shingleton with welcoming remarks by American Legion Post 31 Commander Bruce Grimes.  Dignitaries attending were introduced by Vice Commander Shingleton including current American Legion Department Commander Tom Hicks; three past Department Commanders, Frank Nicholson, Jack Gerrard and Fred Buchanan; current Auxiliary Department President Savanna Kauffman; past Department Presidents Roxie Nicholson, Susan Brown, Susan Wade, Dortha Parsons, Ann Buchanan, Patricia Moore and Paulette Anderson; and American Legion Auxiliary 3rd District President Kim Mellie and Unit 31 President Marsha Duckworth.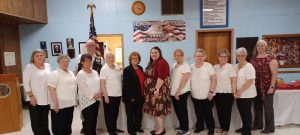 State Commander Hicks addressed the group on membership and other initiatives throughout the state and the group then divided into their respective business meetings.
The 3rd District Auxiliary meeting was opened with the presentation of the gavel to 3rd District President Kim Mellie by Auxiliary Unit 31 President Marsha Duckworth followed by the opening prayer given by 3rd District Chaplain Betsy Turner followed by the "Pledge of Allegiance" and the "Preamble to the Constitution" and the "Mission Statement" of the American Legion Auxiliary.  The annual memorial service was held to honor the members who had passed away during the year.
Committee chairmen were introduced by Department President Savanna Kauffman and committee reports were given by Carla Wilfong, State Poppy Committee and Volunteer Services Committee, on volunteer hours at both the VA Hospital and care givers; and Susan Brown, Department Secretary/Treasurer was the last to address the group on the ongoing activities in her office and upcoming events.
Nominations and election of 3rd District Officers for the 2023-2024 Auxiliary Year was held and the new officers are Kim Mellie, Post 31, Shinnston, 3rd District President and April Wallace, Unit 7, Buckhannon, 1st Vice President.  These ladies will be sworn into office during the summer convention in July 2023.
The groups rejoined for a rigatoni luncheon provided by American Legion Auxiliary Unit 31.
The day's activities progressed into Sunday, March 5, 2023 with
American Legion Post 31, the American Legion Family (Auxiliary, Sons, Riders) along with their families and friends and American Legion and American Legion Departments of West Virginia dignitaries celebrating the American Legion's 104th birthday.  The celebration was held at American Legion Post 31, Shinnston, WV.
The program was opened by Bruce Grimes, Commander, Post 31 and the invocation by Robin Shingleton, American Legion Post 31 Chaplain and Treasurer.  Tom Willis, Adjutant, Post 31, presented the POW/MIA Service in remembrance of those military service members who were prisoners of war or still missing.
Introductions of Post 31 Officers was made by Commander Grimes.  Introductions were also made by Kim Mellie, American Legion Auxiliary 3rd District President and Marsha Duckworth, Auxiliary Unit 31 President.
Following the program the attendees enjoyed a dinner of baked steak, fried chicken, mashed potatoes/gravy, green beans, tossed salad with rolls/butter prepared and served by American Legion Auxiliary Unit 31.  As with most birthdays the meal was completed with a birthday cake decorated with the American Legion logo.
Pictured are Auxiliary Department President Savanna Kauffman and Past Department Presidents:  Susan Brown, Dortha Parsons, Roxie Nicholson, Paulette Anderson, Susan Wade and Ann Buchanan.