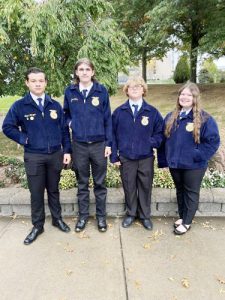 Morgantown, WV – The Liberty FFA Chapter participated in the fall edition of the West Virginia FFA State Career Development Events on October 5th at the West Virginia University Animal Science Research, Education and Outreach Center in Morgantown, West Virginia. Eight student members participated in the Poultry Evaluation and Livestock Evaluation CDEs alongside several other FFA members from various FFA Chapters across the state. 
The West Virginia FFA Poultry Evaluation CDE is a competitive event that tests the participant's ability to select top quality poultry and poultry products needed for successful production and marketing. Event participants must complete a written exam on poultry management, evaluate classes of live birds for eggs and meat production, evaluate quality of eggs, and evaluate and identify parts and products. 
Liberty's team of Savannah Payez (3rd Individual), Abby Davis (7th Individual), Morgan Turner, and Madyson Payez earned the title of Reserve Champions, placing second in the state out of 19 teams. This is the third straight year for Liberty FFA to have a team place in the top three teams in this specific event. 
The West Virginia FFA Livestock CDE is a competitive event that tests the student's ability to select and evaluate livestock. Event components include eight evaluation classes of beef, sheep, and swine; oral placement reasons on four classes; and a written exam on livestock production.  
Liberty's team of Logan Morgan, Max Fury, Taylore Searcy, and Wesley Cutright placed 19th Team in the state of the 30 teams entered in the event. 
Through Career Development Events, participating FFA members in grades 7 to 12 are challenged to develop critical thinking skills and effective decision-making skills, foster teamwork and promote communication while recognizing the value of ethical competition and individual achievement. CDE events occur at the state and national levels.  
The National FFA Organization is a dynamic youth organization that changes lives and prepares members for premier leadership, personal growth and career success through agricultural education.