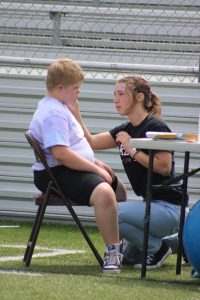 By Stephen Smoot
Earlier this month, the Lincoln High School Key Club organized and held a field day event. Called "Field Day With Friends," qualifying students from eight schools came to enjoy the sun, fun, and excitement of competition and play.
According to the Lincoln High School Facebook page, the club "hosted a fun day full of events, food, and friends. It was a beautiful day and a beautiful event." Schools from across Harrison County came together to participate.
Key Club is the youth branch of the Kiwanis service club. Like adults in Kiwanis, the Key Club attracts community minded individuals determined to make their hometown and surrounding area a better place to live.
Ana Belcastro, club president, explained that "Key Club puts together community related events." She then shared some of the programs that the club performed over the past year, including trunk or treat, feed a family, and more. She added that "we visited a nursing home and sang Christmas carols." 
About the field day, Belcastro added that "This year we had eight schools. Last year, we only had our high school and a middle school." For 2023, they had two elementary, five middle, and one high school.
"We set up different games," Belcastro said. She described how the Key Club members enjoyed not only helping the competitors, but playing with them as well. Club members monitored games and assigned first, second, and third place awards and prizes.
Aliyah Elder had served this year as club historian. She talked about how much cub members enjoyed bringing Christmas trees to the nursing home and interacting with the residents there.
Community service lies at the heart of Key Club. Many students have to perform service to meet school requirements. Others do it from a devotion to community. Alli Bragg, who served as treasurer this year, stated that the club is "a great opportunity to get involved with school activities and be involved in the community."
Students often hesitate before making a different kind of commitment and "sit on the fence" about joining clubs or other extra curricular activities. Junior board member Alexis Williams explained that "a lot of students in school are on the borderline of whether to join." She added that "as a freshman, it's a scary thing to get involved, but there's always a good outcome."
Another important aspect of the club is being student centered. Students run the club, make the decisions, organize events, and make them run well. The club emphasizes drawing on as many talents as possible, not focusing on one or a few people.
Later, the Key Club chose its officers for the 2023-24 school year. Ana Belcastro will serve as president, Alli Bragg as vice president, Abby Jones as secretary, and Aliyah Elder as treasurer.
Cheyenne Batton and Alexis Williams will be senior board members. The junior board will have Eden Ashcraft and Sylvie Salerno. Chesnea Boyles and Cade Riley will serve on the sophomore board.