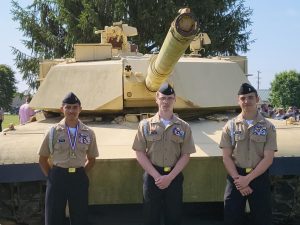 By Stephen Smoot
Many young people see summer as a time to play and relax. Others see it as a time to develop their character and skills, preparing to be the leaders of the future.
Cadets Grayson Guthrie, Isaiah Martin, and Carter Batson represented Lincoln High School at a summer leadership academy for JROTC members 
Guthrie, who serves as cadet commanding officer at Lincoln High School, described the academy held at Camp Atterbury, an Indiana National Guard base used for training. He said of the experience, "we were always moving. We didn't have much down time." Even down time, he related, was devoted to the academic study of the concepts taught in the academy.
"We were always going somewhere, always doing something," Guthrie shared.
The academy curriculum "was like a mini boot camp," that included helping the cadets to learn military drills and other skills, while also attending classes. Despite the hard work, "we didn't want to leave, but we accomplished what we were supposed to do."
Guthrie had the ambition to join NROTC for years, saying "when I was in middle school, I'd see cadets on the bus, wearing the uniform," adding that those students "had a commitment to something other than themselves."
Like for most teenagers, joining up "was scary at first, coming out of COVID." Guthrie stated, though, that "the commanding officers were really prestigious. They had a high role and everyone looked up to them. I tried to get up to where their standards would be."
Petty Officer First Class Aaron Deaton modeled the commitment to community expected of NJROTC by stepping up when the school needed a leader for the program. Deaton explained the deep traditions established by the program at the school, saying that,"Paul Cast was this program for so long. I feel like I need to fill his shoes and keep going."
"My key word is integrity," Deaton said, "doing the right thing, no matter what." Under his direction, the NJROTC program intertwines the teaching of military science and positive community values through leadership. 
He took pains to explain that participation in NJROTC does not mean that the student has committed to military service. Rather it teaches military virtues, such as honor, duty, and work ethic as part of a "citizenship development program" to "contribute to your local community and your country," as Deaton states.
The program also helps to give cadets context about the United States and its role in the world. "We want to teach the value of the Navy," as well as "what is a national strategy" and "being prepared as a nation." Deaton often cites the example of great Americans, such as President Theodore Roosevelt. It's likely no coincidence that "TR" had a great passion and understanding of the United States Navy and its courageous traditions.
One of the rituals cadets follow during the school year is "Motivational Monday," where Deaton plays clips, such as speeches from Denzel Washington, to inspire cadets to dream bigger and reach farther. He said that students considering NJROTC should "give it a try. It's not always about winning, but get in the ring. Dare to do something."
Also important is the personal development of skills and confidence. Guthrie said of NJROTC, "it brings you out of your shell. When I got to high school, I was very shy. Most think it's a military commitment, but it's not.
"You come out a better person and you learn leadership roles," Guthrie said.