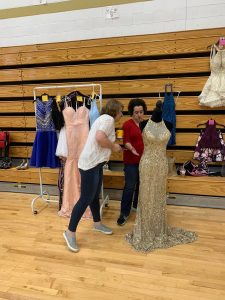 By Mary Heinrich
Staff Writer
If you are raising a teenage girl, you know that one of the most expensive parts of high school can be formal dresses.  Homecoming, winter formal, prom — it adds up quickly.  The senior class at Lincoln High School is trying to help families offset this cost by hosting prom dress pop-ups.
What is a prom dress pop-up?  It is an event where people with gently used formal dresses and accessories come together in one place to sell their wares.  
Saturday, Feb. 26, Lincoln High School hosted at least ten vendors selling dresses, shoes, jewelry, and hairpieces all at discounted prices.  
Senior Hailey Boyce said that the event's intention is to help young ladies find the dresses and accessories they need for formal occasions in their lives. She also said that it is helpful to families who may not be able to get to Morgantown or Charleston to comparison shop for a formal gown.  With this event, the dresses come to the family instead of the family going to the dresses.
Boyce said that they held this event in the fall before homecoming, and it was successful then, so they felt it would be successful again before prom.  She also indicated that several of the families came looking for last-minute dresses to attend the father-daughter dance being hosted by the junior class later that evening.
Boyce said that she was hopeful that the event would continue and that the senior class would pass this idea down to the class coming up behind them.
Another way that the seniors are helping other students is through their prom closet.  Dress-owners donate their gowns, which are then donated to any student who needs one. These dresses are given to the school for free and are given to the student for free. Boyce said that she would like to encourage anyone who may have a formal dress just hanging in their closet to donate it to the prom closet.