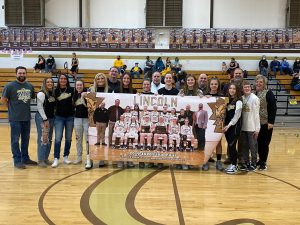 By Bill Nestor
Sports Editor
Take a trip back in time to March of 2020.  It was the start of the current pandemic and the end of a very special season for the Lincoln girls basketball team.  Veteran head coach, Rob Hawkins, had his team playing some impressive basketball and had just earned an opening-round win over Nitro in the state basketball tournament. 
That is where the good news ends and the heartbreak begins for a team that appeared destined for so much more.  The day after the Nitro win, everything started according to plan.   The players were at the mall with Athletic Director, Holly Hawkins, while the coaching staff was preparing for an afternoon practice.  Not only did that practice not take place, but the opportunity to compete for a state title was canceled as well.  
"The players were devastated," explained Hawkins, "even though they were saying postponement, it felt like cancellation."  Unfortunately, the coach was correct, and the season came to an abrupt halt.  
As you can imagine, this was a difficult time for the program and what made it even harder to deal with was the closeness this team shared.  
"This was a close-knit group," Hawkins said. "We had the same starting lineup for two years.  They were very close and very focused on what their goal was, and we were just literally ripped away from each other."
This past Saturday, prior to the start of the Lincoln-Keyser tilt, a homecoming was held for the 2019-2020 team.  It was the first time the team had been reunited since Charleston and it was a special evening for those in attendance.  
The squad was comprised of a pair of 2020 seniors Brynne Williams and Ally Rockwell; juniors Madi Martin, Hannah Ferris, Emily Jett, and Victoria Sturm; sophomores Brooklyn Fazzini, Sydney McDougal, and Josie Carroll; freshman Megan Tucker, Kierstyn Posey, and Jaden Sturm.  A side note: Williams was just 13 points away from 1000.
Hawkins knew that it was going to be a special evening when his former players started making their way into the gymnasium.  They started trickling in during the JV game and all of a sudden they all came together.  Tears were in everyone's eyes, including mine. It was a special experience.
The Golden Tornado claimed a hard-fought win on Saturday.  You can only imagine the roller coaster of emotions felt by Hawkins as he had an emotional ceremony and was brought back together with some players that he had not seen in nearly two years.  At the same time, he had to prepare and coach a game immediately following the ceremony.
Prior to the match-up, the returning players were presented with a photo that will stand the test of time.  "The administration made a good decision to commemorate the team with a picture that will be displayed on the gym wall. It is a fitting way to honor a team that will never know what could have been.  It was a special team and we don't know what would have happened,"  Hawkins recounts.
Looking back to the end of that season and that infamous day which Hawkins called "one of the worst days he has ever had as a basketball coach," it is hard to imagine how that could ever be erased from their memories.  But, what Hawkins will remember from Saturday is that the players "picked up where they left off enjoying each other."  I have a feeling that is what it will be like every time this special group gets together from now on.  
That will do it for now.  Until next week…take care and God Bless!