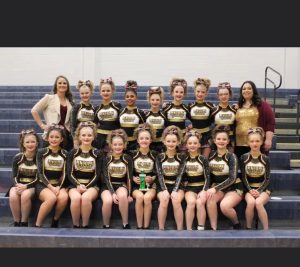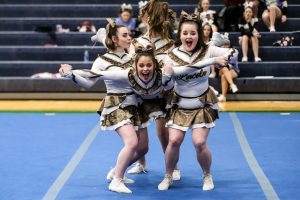 By Mary Heinrich
Staff Writer
Harrison County cheerleaders perform to an impressively high level of expectation and this year, teams in Harrison County have proven that they are most definitely in this for the win.
Cheerleading is the only school sport whose season lasts the entire school year.  The young ladies and gentlemen who participate in this athletic endeavor are expected to know the basics of every sport for which they cheer. They maintain school traditions while coming up with new ways to excite the crowd at every game.  
As a matter of fact, the job for these athletes is four-fold.  According to the National Federation of State High School Associations, the role of the cheer team is to be crowd leaders, spirit raisers, athletes, and entertainers.  They are expected to be at every game to pump up the crowd, to decorate hallways, plan and execute pep rallies, set a good example of school pride, and to maintain model behavior, including an exemplary GPA.  
It is also the responsibility of these dedicated young people to maintain a practice and exercise schedule which enables them to be in top physical condition.  Their job is to be capable of jumps, flips, and stunts that, honestly, make us all hold our breath.  They also must maintain full energy from the beginning of the game through the end–no time out, no halftime.  
It is also required that cheerleaders be entertainers.  The most readily noticeable part of the cheerleader's responsibility is the performance.  They must learn and perform routines for pre-game, halftime, time out, and post-game lulls in the game.  All of this must be done without messing up the hair and makeup which was so meticulously attended to before the performance.
These responsibilities culminate in cheer competitions: the venue in which all these skills are combined and adjudicated against others with the same skill set.  
Lincoln High School, coached by Amanda Brown and Candis Toothman, are the 2021 Region II Class AA champions and 2021 East Fairmont Fall Classic champs.  
They have also earned several small group and individual awards at separate competitions.  At the 2022 Robert C. Byrd Classic, Emalee Brown, Paige McGee, Sierra Moore, and Bailee Dragoo, walked away with a second-place finish in the Stunt Group category.  Katie Swiger took home first place in jumps and second place in tumbling.
The 2022 East Fairmont Classic saw the Cougars bring home a first-place finish in sideline chants and first place in stunt group-using the same stunt group who performed at RCB.  Once again, Katie Swiger brought home another first-place finish in tumbling and Lindsey Alexander brought home a third-place title in the same category.  
Another very impressive achievement of these students is both individual and group.  According to coach Amanda Brown, these students have maintained a combined 3.625 GPA throughout the first semester.
The cheer team from Bridgeport High School, coached by Natalie Hathaway, has also achieved a number of awards this season. In 2021, they were crowned champions of the East Fairmont Invitational, Big 10 Champions, and AAA State Champions.  They also achieved runner-up status at the regional state meet and at the RCB Classic won a first-place finish in the high school stunt group.  The girls in that group were Gyllian Wagner, Jade Nguyen, Andy McCall, and Nevaeh Brinkley.  Sallyanna Hamrick also won the tumble-off at the same competition.  At the Alderson-Broaddus University Cheer and Dance Competition, Lilly Strait, Bryanna Greathouse, Lexi Wilkinson, and Sallyanna Hamrick took first place.
Robert C. Byrd's cheer team met with great success as they took runner-up in the state regional competition but came back to take first place in class AA in the state cheer championships.
According to the cheer coach at South Harrison Middle and High School, they chose not to compete this year and, as of deadline, Liberty High School had not responded to requests for information.
The middle schools of this area made a huge impact in the state as well.
Lincoln Middle School, coached by Miranda Buckhannon and Heather Leep carried home the title of 2021 Harrison County Middle School Champions.  They also achieved the honor of grand champions in the 2022 East Fairmont Classic.  Individually, Alivia White was awarded a first-place finish in jumps and third place in tumbling at the same competition.  Hannah Westfall won second place in jumps at the same Fairmont competition.  
Lincoln's youth cheer league team, the Cougar Cubs are the 2021 MYF Peewee Champs as well.
Mountaineer Middle coached by Jennifer Barnes and Staci Nutter, won third place in the Harrison County Middle School Cheerleading Competition.  At the Punky Garrett Cheer Classic hosted at Robert C. Byrd, the team took first place in the small middle school routine, best stunts, best jumps, best tumbling, best dance, and technical cheer.   
W-I Middle School became Harrison County Middle School Champions for the third year in a row.         
All-in-all, Harrison County's cheer teams have proven themselves to be second to none.  Way to go girls!  Keep up the hard work.