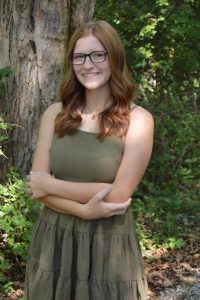 Catherine Ann Caruso
Catherine Ann Caruso is the daughter of Valerie and JC Caruso, and the granddaughter of Joseph and Carla Caruso, and Patricia Corcoglioniti and the late Joseph Corcoglioniti. Throughout her four years at Lincoln, Catherine has earned a spot on the honor roll due to her exceptional grades. 
She will graduate with Magna Cum Laude honors. She was inducted into the National Honor Society her junior year, and holds membership in many clubs and organizations, such as Key Club, DECA, National Honor Society, and National Technical Honor Society where she serves as Secretary. Also noteworthy is the fact that Catherine serves as the Secretary of the Senior Class. 
Catherine is a four-year member of the soccer team, and a three-year member of the marching and concert bands Outside of school, Catherine enjoys coaching U6 soccer, dancing at Ingra & Company, camping, and traveling.
Catherine has plans to attend Fairmont State University to major in Healthcare Management.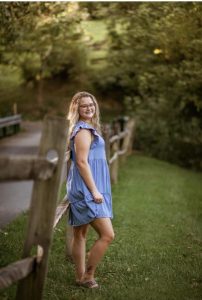 Sydney Morgan Foster
Sydney Morgan Foster is the daughter of Jeffrey and Laura Foster and David and JoDee Decker. Sydney is the granddaughter of Pamela H. Clifton, James and Becky Foster, Greg and Nancy Moninger, William and Rita Decker, Guy and Susan Gage and the late John C. Clifton.
Academically, Sydney has excelled throughout her four years of high school. She has earned a spot on the perfect honor roll several semesters. She has maintained a 3.8 GPA while earning 28 college credits. Sydney's exceptional grades, reputation, and service earned her membership into the National Honor Society her junior year. She was the coordinator of the service project Feed a Family. She was also awarded a Top Scholar award.
Sydney is a four-year member of the Key Club. She was selected to attend the Key Club Convention her freshman year. Sydney organized a group from the Key Club to ring the bells for the Salvation Army. She volunteered for parents and grandparents' night out. Sydney also has been an active member of the student council, where she was selected to serve on the Executive Committee. She was elected senior class Historian. She assisted with the coordination of the daddy daughter dance, prom, and senior breakfast.
Sydney was a two-year member of the strings group where she played the violin. She participated in Music at the Mall during her tenure in strings. Sydney has volunteered at Meadowview Manor and played bingo with the residents. She has also volunteered with the non-profit group Stars and Strides. It was during this experience that Sydney determined her future career path of elementary education and school counseling. Sydney has been accepted into West Virginia University where she plans to obtain an undergraduate degree in elementary education and then pursue a master's degree in counseling.