By Erin Beck
Lions Club Dave Minor said three parade marshals are selected for the annual Veterans Day parade each year. He said they pick local veterans to let them know the community appreciates their service. 
The parade will be held Friday at 11 a.m. on Pike Street, beginning at the Veterans Memorial.
Chad J. Wilson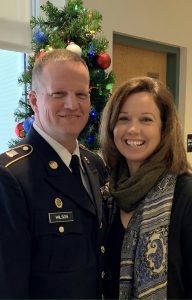 Sergeant First Class Chad J. Wilson is from Shinnston and a former state trooper. He is also a former member of the Harrison County Sheriff's Department, where he worked as a deputy in patrol, home confinement, and as a school resource officer, and the FBI Police. In 2020, he was promoted to the rank of sergeant in the FBI Police and is currently the shift supervisor for B Night shift. In his 29 years in law enforcement, he has been a firearms instructor, EVOC driving instructor, field training officer, hostage negotiator, accident reconstructionist, interdiction instructor at the State Police Academy, and ATV instructor.  
SFC Wilson's military career began in 2008 when he enlisted in the West Virginia Army National Guard. He attended 31B (Military Police) One Station Unit Training at Fort Leonard Wood, Missouri, and upon returning, was assigned to the 154th Military Police Company in Salem. In 2010, he was promoted to sergeant at the 154th MP Co., and in 2012, was promoted to staff sergeant and transferred to the Camp Dawson Regional Training Institute as an MP Instructor.
In 2019 he transferred to the 863rd MP Company for a protective service detail mission to Afghanistan. He attended Protective Service Detail school at Ft Leonard Wood in 2020, and then deployed with the 1st Infantry Division to Camp Resolute Support in Kabul, Afghanistan for the PSD mission there. During the deployment, his unit provided protective services transportation for the general officers stationed there, as well as visiting foreign dignitaries.
SFC Wilson has received numerous medals and commendations including the Army Commendation Medal with Combat device and oak leaf cluster, Army Achievement Medal with Combat device and 2 oak leaf clusters, Army Reserve Components Achievement Medal with 4 oak leaf clusters, National Defense Service Medal, Afghanistan Campaign Medal with bronze star device, among multiple others. 
Herbert R. Buckhannon 
Herbert R. Buckhannon was drafted into the Army Oct. 16, 1966, right after high school. He went to Fort Jackson, North Carolina for zero week and then boot camp at Fort Sill, Oklahoma for basic training and advanced individual training. 
After a 30-day leave at home, Herbie was sent to Hanau, Germany for 11 months where he was a truck driver in a service artillery battery. While in Germany, he was a private first class then promoted to specialist 4. The army sent 6,000 troops out of Europe and Herbie was sent to Fort Lewis, Washington State where he completed his last seven months. Herbie was honorable discharged Oct. 15, 1968.
Robert Crites
Robert Crites joined the U.S. Army on Nov. 19, 1958, and did his basic training at Fort Jackson, South Carolina from Nov. 23, 1958, to Jan. 1959. Then, he was sent to Fort Leonard Wood, Missouri for eight months from March 1959 until Sept. 1959 when he received orders for Germany to 12th Combat Engineer Batallion 8th Infantry Division and served three years there.
In October of 1962, he was ordered to Fort Devens, Massachusetts, where he served in the 2nd Battalion 2nd Brigade 2nd Infantry Division for two years. In 1964, he received orders for Southeast Asia where he served in the 809 Engineer Construction Battalion. He was honorably discharged on June 11, 1965, from Walter Reed Hospital. He was also extended for seven months while in Germany in Sept. 1961 because of the Berlin Wall. 
…
In future years, Minor said the Lions Club also hopes to honor more Vietnam veterans. 
"We try to get older veterans, but sometimes they don't want to share their experiences," he said, "But we keep trying."
Since 2008, the Shinnston Lions Club has organized and brought Shinnston the Veterans Day parade on Nov. 11 at 11 a.m. every year.  
After the parade, the Lions Club, in conjunction with the American Legion Ladies Auxiliary, will be hosting a luncheon to honor the parade marshals at the American Legion at 76 Bridge St. around noon. Minor said the luncheon is free and open to the public.