By Nick Kellar, Lincoln High School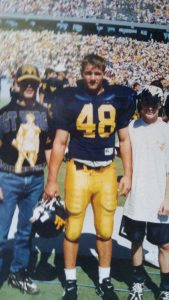 Shinnston is home to many legends. Andrew Perine, Adam Southern, Christie Lambert, and Levi Maxwell are just some of the names that fly around when speaking of local ones. A particular name that sticks out to many is Daniel Pratt. 
Pratt was a force of nature. Standing at 6 feet 2 inches tall and 200 pounds while running a 4.7-second 40-yard dash as a sophomore, he took on the starting role as running back for Lincoln's football team in 1992. Once he got the starting role, he never looked back. In just three seasons as a starter, Pratt rushed for roughly 4,800 yards. Before his junior year, Pratt grew to 6 feet 4 inches and 220 pounds. The local legend put up numbers that people only see in video games. Pratt's best game was against Philip Barbour, where he rushed for 311 yards and five touchdowns on just 19 carries. 
"Daniel was the most physically gifted athlete I ever played with," said former teammate Mike Wolfe. "I played with him from youth sports through high school. I was never in a game that I thought we couldn't win because of his presence."
In both his junior and senior seasons, Pratt accomplished great feats. He led the team to two 6-4 seasons and qualified for the playoffs in both years. Although they lost in the opening round both times, Pratt rushed for over 500 yards combined in just those two games. 
On top of that, Pratt was selected as 1st team All-State running back for both the 1993 and 1994 seasons. In Pratt's senior year, he finished second in the race for the Kennedy award, which goes to the best player in the state. The player who finished ahead of him was none other than Pro Football Hall of Famer Randy Moss.
Pratt was also a star in baseball. He made 1st team All-State his senior year.
After high school, Pratt committed to WVU to play linebacker for the Mountaineers. In the 1996 WVU spring game, the Lincoln alumnus stood out, even intercepting a pass from future NFL quarterback Mark Bulger. With this stellar performance, he was on pace to start for the Mountaineers as a redshirt freshman. 
"Daniel would expect the best from you and if you didn't give it, he would let you know," his former teammate, Wolfe, added. "He was also the first guy there to celebrate his teammates' successes too. He was a relentless competitor, and you always knew he had your back. Most importantly he was just a regular guy. He was a Division 1 athlete…not too many of those from Shinnston that I'm aware of…he never changed…he's the same likable guy today that he's been his entire life. He makes friends and connects with people instantly. He's a great human being and I'm honored to have him as my friend to this very day."
Unfortunately, Pratt suffered an injury in fall camp that proved to be too much to overcome. However, to say Pratt did not leave a legacy would be a lie.