By Maralisa Marra
Codirectors of The Lord's Pantry, Tom and Carol Edgell, are committed to serving their community. The Edgells never fail to lend a helping hand whether it be at the Pantry or a taking their grandkids to practice.
They became involved with the Pantry a few years ago after retiring.
"It has always been a passion of ours to try to help other people and to try to help those who are in need," Tom Edgell said. "We were to the point in life where we've had a good life. We decided that we had the time now."
"We still wanted to be active, and fortunately, Pastor Kevin [Nuzum] at the First Baptist Church directed us in that direction, and then we got to working with Sandra Haggerty [Pantry director] and just fit right in," he said. "So we've been there trying to do everything we can ever since."
Carol Edgell said they started out at the Pantry as regular volunteers. She was packing bags while he was taking care of the meat department.
"That's what we did until Sandra was unable to do her regular weekly job within the pantry, so we took over doing other things," she said.
Her husband added, "Everybody there gets along like a real good family. Everybody works well together…Everybody just jumps in and does everything."
"We're all volunteers," Carol Edgell said. "We're all equals. We all just do the best we can to serve our clients, and it's fun. We just really all get along very well, and we just enjoy being there."
The Edgells manage the on-site aspects of the Pantry like distributing the groceries. Tom Edgell does the ordering and picking up of the groceries.
They are thankful for the abundance of support from the local churches, including Jewel City Church; organizations; and businesses.
"Some very beneficial businesses really come to our aid by giving us donations as well as reduced prices," Tom Edgell said. He said with inflation on the rise and the impact it can have on those who need help most, "we're glad that we're able to at least provide some food to them to make sure that they and the children and the grandchildren have something to eat."
The Edgells said the Pantry is also thankful for their collaboration with the Shinnston Community Garden.
"The community garden has been able to raise several hundred pounds of vegetables for us," Tom Edgell said. "All the work that has been put into that community garden by volunteers–believe me, everything that they've gotten out of it has been well appreciated by our clients," he said.
He said they try to give some fresh vegetables to every family.
"I invite people to come just to see what goes on," Tom Edgell said. "Come on a Thursday and take a tour and watch what goes on."
Carol Edgell said she believes the garden will grow bigger and more beneficial.
"People in the community have given us a lot of donations. They try very hard to help us," she said. "We have so many people that work with us. We couldn't do it without all of them."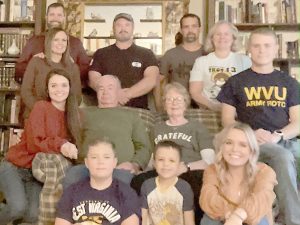 Aside from their time at the Pantry, the Edgells have five grandchildren who they are dedicated to loving and raising.
Carol Edgell said, "We're volunteer drivers. We make sure everybody gets where they need to go."
Lately, they have been lending a hand in getting their grandson to and from football practice while their son is working.
"We're there when they need us," she said.
Tom Edgell concluded, "God, family, and community involvement is the motivating factor for everything we strive to do."
The Shinnston News & Harrison County Journal has named Tom and Carol Edgell as Citizens of the Month, a recognition sponsored by Dorsey Funeral Home in Shinnston – locally owned and operated.