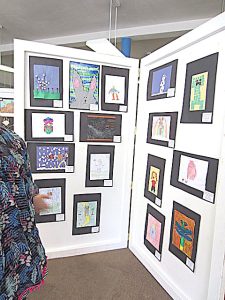 "Whether you're a visual, musical, performing, or
literary artist, we want you to be part of Philippi Main
Street's annual Art Stroll Friday, October 1 from 5-8 pm
in downtown Philippi," says a spokesperson for the Art
Stroll.
Main Street's Art Stroll has been a mainstay in
downtown activities since the first stroll in 2011. Each
year's stroll draws hundreds of strollers to downtown
Philippi. These strollers enjoy visual artists, musicians,
writers, and sometimes dancers who exhibit or perform in
business locations from the Barbour County Historical
Museum to Freedom Bank.
To fill the 20 plus exhibit sites, Main Street again calls
out to local, area, regional, and state artists to join in the
popular evening event. Anyone wanting to participate
should contact Philippi Main Street Director Tammy
Stemple at 304-457-3700, Ext. 226 or via email
hotpepperbabe@hotmail.com.